The European Space Agency (ESA) has taken to its website to share an image of a "cosmic monster" lurking out in deep space.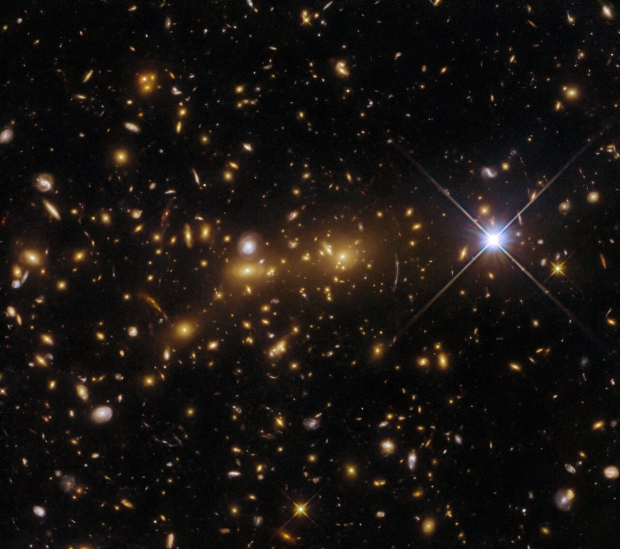 NASA and the ESA's Hubble Space Telescope has photographed a galaxy cluster called eMACS J1353.7+4329, which is located eight billion light years away from Earth within the constellation Canes Venatici.
According to the ESA blog post highlighting the photograph, eMACS J1353.7+4329 is a "cosmic monster in the making" as it consists of two elliptical galaxy clusters that are on the verge of colliding together to form one super galaxy cluster.
The image shows hundreds of galaxies, each with a glowing orange halo around its bright inner cores. There is a star located on the right side of the image, and according to the ESAs, its four long spikes are diffraction spikes caused by Hubble's instruments.
"Gravitational lensing is a dramatic example of Einstein's general theory of relativity in action. A celestial body such as a galaxy cluster is sufficiently massive to distort space-time, which causes the path of light around the object to be visibly bent as if by a vast lens," ESA officials wrote in the statement.

"Gravitational lensing can also magnify distant objects, allowing astronomers to observe objects that would otherwise be too faint and too far away to be detected. It can also distort the images of background galaxies, turning them into streaks of light. The first hints of gravitational lensing are already visible in this image as bright arcs which mingle with the throng of galaxies in eMACS J1353.7+4329," added the ESA.