If Microsoft successfully takes Activision off the market in its $68.7 billion merger deal, then other big tech firms could be spurred to snap up studios and maybe even big publishers like Electronic Arts and Take-Two Interactive.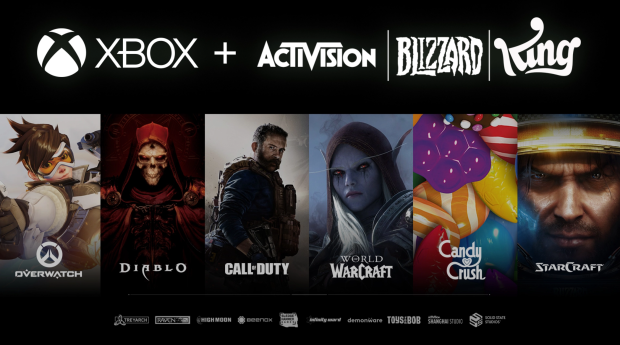 The outcome of the FTC v Microsoft case caused a stir in the interactive entertainment market, with both EA and Take-Two hitting 52-week highs shortly after the FTC's loss was announced. While the FTC is appealing the federal order in an attempt to stall the Microsoft-Activision merger, the deal could still close as early as this weekend. If it does, then major tech companies could make acquisitions in an attempt to secure a slice of the $200 billion market.
In a recent interview with CNBC, Jefferies managing director Andrew Uerkwitz shares his thoughts on how the merger's completion could spark more consolidation as the pool of available talent continues to shrink.
"I think that there is a belief that...big tech, they've all wanted to do games. The Amazons, Disneys, Netflixes of the world all want to be in games. Now if the deal gets through, now all of a sudden all of these other companies need to assess if they're serious about games. If they are, who do they acquire? Because they can't do it organically. I think the investors are around looking at who could be the next acquisition in the space," Uerkwitz said.
When asked if it seemed unlikely that big tech firms like Amazon would acquire EA, Uerkwitz said that it could be more likely that these companies make smaller-scale acquisitions instead. Netflix, for example, acquired multiple indie game studios including Night School, Next Games, and Boss Fight Entertainment.
"I think maybe a year, or 18 months ago, that was much more likely. Today, I don't think it's that likely. Amazon has some other problems, Disney has some other problems. Cost of capital is a lot more expensive.
"I think people might take the approach that Microsoft originally started on, if you go back to the 2018-2020 period, they started out buying small acquisitions and slowly bulked up. We might see that, to see if some of these companies start testing the waters to see what's out there and if these strategies ultimately work."
Uerkwitz was also asked if the rise in EA and Take-Two stock was warranted, with the CNBC anchor implying the stock price was raised as a result of the FTC v Microsoft case outcome.
"If we were wrong...maybe Amazon is serious. Maybe Comcast would be serious about adding video game content. Warner Bros. Discovery talked a lot about the success of Hogwarts Legacy and the ability to move IP across video games and television. And you think about who has the best IP out there, there's none better than EA and Take-Two."
There were past reports that Comcast was interested in spinning off its NBC Universal division and merging with Electronic Arts to form a powerhouse entertainment company.
In August of 2022, further reports indicated that Amazon was interested in buying Electronic Arts, but the reports remain speculative.
Another plot twist almost saw Activision buying Time Warner and using valuable Warner Bros. DC intellectual properties like Batman and Superman to fuel new video game projects.