Nintendo continues to increase its research and development (R&D) budget as its next-generation Switch console looms on the horizon.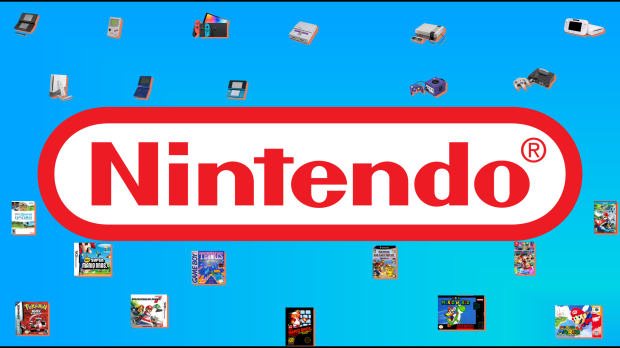 Nintendo is currently working on its new console, which is believed to be an upgraded Switch handheld hybrid that allows for upscaled 4K gaming. A lot is unknown about the device--publishers like Activision don't even know specifications yet--but there's rumors of devkits being sent out to select developers. The new Switch, dubbed the Switch+, Super Switch, and Switch 4K, may be powered by a new Tegra Orin processor accompanied by the enhanced Switch OLED dock which has been updated to support 4K video output.
Speculation aside, we do know that Nintendo is steadily increasing its R&D budget to prepare for new hardware, software, and services. According to Nintendo's 2023 annual report, the company spent around $827 million on R&D throughout Fiscal Year 2023. This budget is for the entirety of Nintendo's operations and is not just for the next-gen Switch.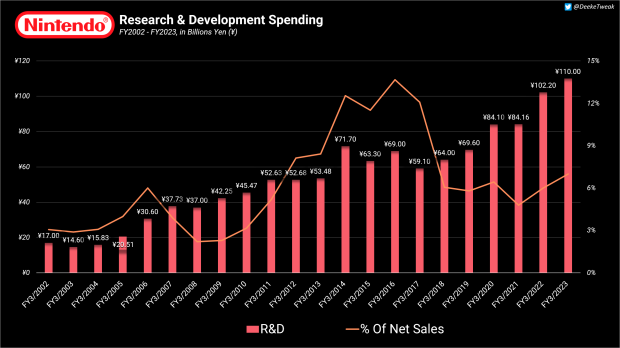 Read Also:Nintendo prioritizing smooth transition between Switch and next-gen hardware
Nintendo's R&D spending includes development of first-party software for the Switch, maintenance and content creation/procuration of its digital storefront and the Switch Online subscription service, new smartphone games, and experimentation across a myriad of new emerging and nascent technologies like Mixed Reality (VR and AR), machine learning,
"Research and development expenses for the fiscal year were ¥110.0 billion (USD 827 million), with the outcomes of major research and development activities described below."
We have a paraphrased list of what Nintendo spent its R&D budget on in FY23:
Hardware - Firmware updates, special editions

Software - Software development optimization, full games like Splatoon 3, Xenoblade Chronicles 3, Fire Emblem Engage, Metroid Prime Remastered, Kirby's Return to Dream Land Deluxe, Mario Strikers: Battle League, Nintendo Switch Sports

Mobile - Maintenance in games like Fire Emblem Heroes, Animal Crossing: Pocket Camp, Mario Kart Tour

Switch Online - Introduction of Game Boy and Game Boy Advance games to Switch Online, new titles across the various emulated systems
"On top of these efforts, Nintendo continues to engage in the development of various products and services for the future, including new products that improve people's QOL (Quality of Life) in enjoyable ways," Nintendo writes in the report.
Below is an excerpt from the report where Nintendo discusses its R&D focus:
With respect to hardware, we continuously investigate and undertake research on underlying technologies spanning data storage technology such as semiconductor memory, display technology such as liquid crystal displays, and electronic components.

We also carry out research and development activities to examine the applicability of various technologies to the field of home entertainment including interfaces such as touch panels and sensors, networks such as wireless communication, security, cloud computing, virtual reality (VR), augmented reality (AR) and mixed reality (MR), deep learning and big data analysis.

Our efforts are not limited to in-house studies and research and we are also exploring various possibilities on a daily basis to discover technologies that will help create new ways to play by proactively turning our attention outside Nintendo.

Moreover, we continue to enhance the durability, safety, quality and performance of our products to ensure that consumers can comfortably enjoy them over an extended period, in addition to designing and developing various accessories and pursuing cost-cutting initiatives.

With respect to software, we take full advantage of hardware features in planning our products, and focus on game design and program development that leverages graphics, music and game scripts, and developing programs.

Furthermore, in order to enable digital business expansion, we have strongly driven the expansion of system infrastructure that supports network services in multiple areas, including the various network features of each software title and Nintendo eShop. In addition, we have established a research and development structure for smartdevice software, and promote the planning and development of smart-device applications and the development of a back-end server system.