One of the most popular video games in history is returning to Xbox Game Pass for the third time.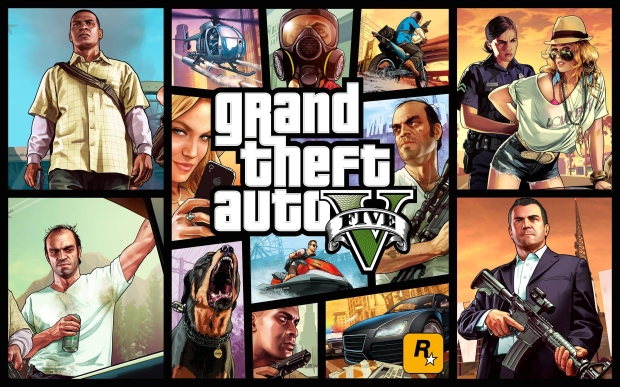 Today, Microsoft made a surprise announcement: GTA V is back on Xbox Game Pass, and it includes the higher-end Xbox Series X/S upgraded version as well. This marks the third time that Rockstar's best-selling Grand Theft Auto has been on the platform, and it really underlines how some publishers see the subscription service.
We've heard a lot of negative aspects about Xbox Game Pass and how the service cannibalizes game sales. Sony Interactive Entertainment CEO Jim Ryan even went so far as to say that Game Pass is 'value-destructive.' While cannibalization is indeed an undesirable effect of the service, Xbox Game Pass can actually help elongate and boost earnings for older games. That's especially true for evergreen catalog games like GTA V, where a series of rotating promos on subscription services has actually helped push franchise revenues.
Research and analysis shows that Grand Theft Auto franchise revenues have actually increased on a quarter-by-quarter basis shortly after the game was added to subscription services like PlayStation Plus and Xbox Game Pass.
Let's take a closer look.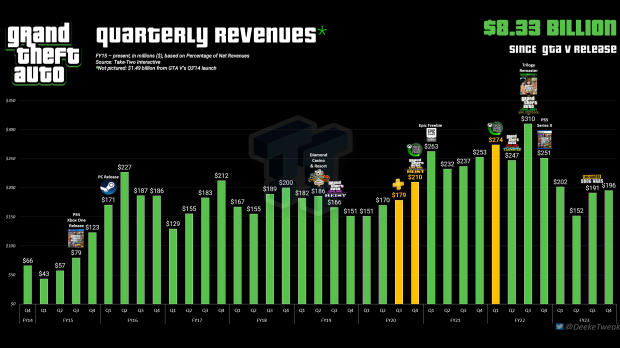 Read Also: Game Pass effect: Xbox's game subscription service is changing consumer buying habits
Grand Theft Auto V was added to PlayStation Now as a downloadable/streamable game on October 2019, which coincides with the Q3 FY20 period of Take-Two Interactive's business calendar.
Throughout Q3'20, GTA V revenues went from $170 million to $179 million, showing a $9 million increase. GTA V was available on PS Now for about 3 months, so the earnings/revenues generated from PS Now (in-game purchases in GTA Online, for instance) are cumulative.
Then GTA V was added to Xbox Game Pass on January 1, 2020. In this quarter, Q4 FY20, GTA franchise revenues went from $179 million to $210 million.
(Revenues went to further push to a massive $263 million during the quarter the game was offered for free on the Epic Game Store).
Something similar happened the second time GTA V was added to Game Pass. The game came to Game Pass for the second time on April 8, 2021, and total GTA franchise revenues went from $253 million a quarter prior to $274 million during the period when GTA V was offered the second time on Game Pass.
Now that GTA franchise revenues are dropping comparatively year-over-year--they dipped to $196 million--Take-Two has once again re-released GTA V on Game Pass as a strategy to hopefully boost both game sales and in-game monetization through Grand Theft Auto Online.
This shows that publishers are indeed willing to support Xbox Game Pass when it suits them, and to use the service as a strategic mechanism to help elongate and invigorate catalog games...especially those with lucrative online modes.
Just don't ever expect to see Grand Theft Auto 6 or any other major Take-Two AAA game release day-and-date on Xbox Game Pass or PlayStation Plus.