Xbox Game Pass is more than just a subscription--it's the foundation of the entire Xbox gaming business model.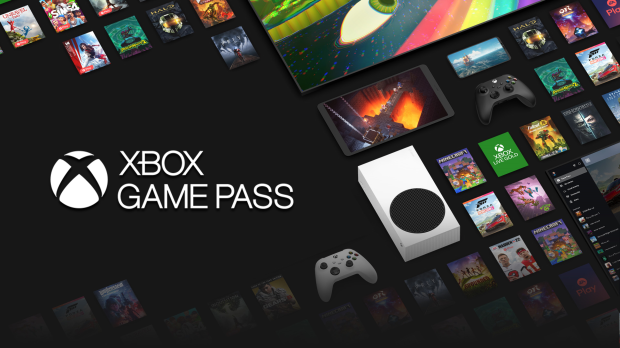 At TweakTown, I've talked a lot about Game Pass and how it has transformed the video games industry. The introduction of Game Pass as the first multi-game content library subscription service (as the FTC refers to it) was a pivotal disruption point in gaming. The history of the world's largest entertainment industry is filled with disruption points.
First there were coin-op arcade machines (aka the original microtransactions), then the advent of the home console which brought the arcade to your living room.
Following the gaming crash in the 80s, we saw Nintendo rise up and reinvigorate the console market using artificial scarcity to drive up demand, complimented by stringent approval processes and games specifically designed to sell magazine subscriptions and generate money from tip hotlines (microtransactions have been here for a while, folks).
Modern consoles drove AAA games, then Xbox defined multiplayer gaming with Xbox LIVE, with Sony and Microsoft rolling out storefronts shortly after. The stores introduced full game sales, but inspired by mobile games, pioneers like Bethesda introduced microtransactions in the form of "horse armor". This trend caught on like wildfire and decades later became the largest driver for all video game industry earnings.
Once the Xbox had an online network where millions of people gathered to play games, and an established digital commerce presence, Xbox tried to become too ambitious with the Xbox One, leaving Sony the opportunity to just undercut Microsoft on price the same way it had SEGA back in the day--a move that, combined with mismanagement, eventually drove SEGA out of the console business. Microsoft has been trying to catch up to Sony's console lead for two generations now, and in that time, Sony has grown tremendously on the strength of its console platform, which it uses as a lever to make lucrative multi-year exclusivity deals.
Xbox Game Pass Key Facts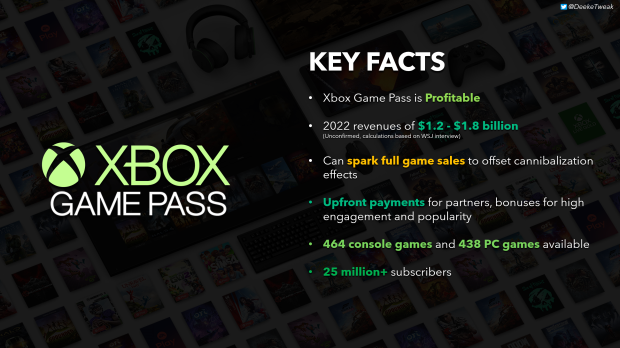 Microsoft needed to change the game and stop playing by the same rules as its major competitor. So it connected Windows PCs together with Xbox One, laying the foundation for what is the most disruptive video games service ever created: Xbox Game Pass. The unification of PC and consoles gave Microsoft an advantage that it could exploit with what it does best--services--and the effort coalesced into a subscription service that was just too good to ignore.
Taking inspiration from services like Netflix, who, at the time, offered an incredible spectrum of third-party content, Xbox Game Pass offered hundreds of games for one monthly fee. It still does. There are so many games that no one could possibly come close to ever playing them all--this buffet-style offering is chosen by design to ensure players stay subscribed for as long as possible. The breadth of content covers the value, the variety of content serves the critical point of differentiation, and the ease-of-use serves convenience.
Microsoft took the value proposition even farther by promising to release all new games from its first-party studios day-and-date on Xbox Game Pass. That means that any game released from any studio will also launch on Game Pass. This aggressive value offering made Game Pass into the core fabric of the Xbox business.
Xbox Game Pass transformed Xbox from a console into a service that can bridge all platforms. Microsoft's ambitions became clear. It wanted to treat Xbox simultaneously as its own console product, but also bring Xbox to all platforms in the same way that it offers its productivity software.
The Xbox ecosystem grew to include consoles, PCs, and mobiles. Xbox LIVE connected everything together, and Xbox Game Pass delivered the content.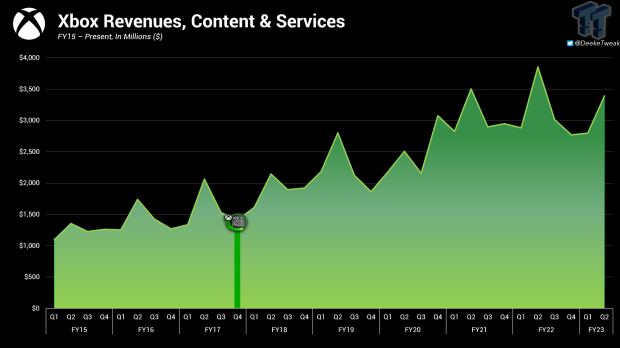 The plan worked. Xbox game division revenue started rising, primarily driven by software and services with spikes in hardware earnings when Microsoft released a new console. Since all Xbox consoles are sold at a loss, the real money is with subscriptions.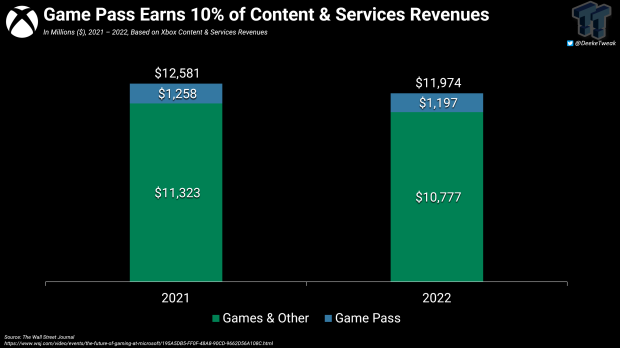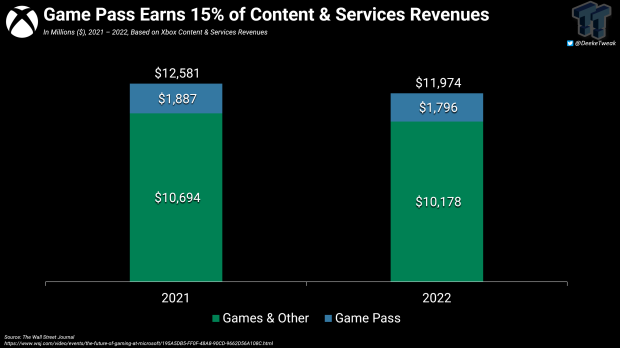 Calculations indicate that Xbox Game Pass makes over at least $1 billion in annual revenues, potentially up to $1.8 billion in 2022. The games division also managed to make nearly $1 billion from services in one quarter, Q3 FY23, which coincides with the Jan - March 2023 period.
Revenues aren't the end-all be-all. Of course, the service has to generate revenue to be profitable. And Game Pass is indeed profitable--Xbox gaming CEO Phil Spencer has gone on record to say that the service is profitable twice now (once at the WSJ Live interview in 2022, and once more in a Giant Bomb interview).
What's more interesting to me is how Game Pass is helping expand users and engaging millions of people.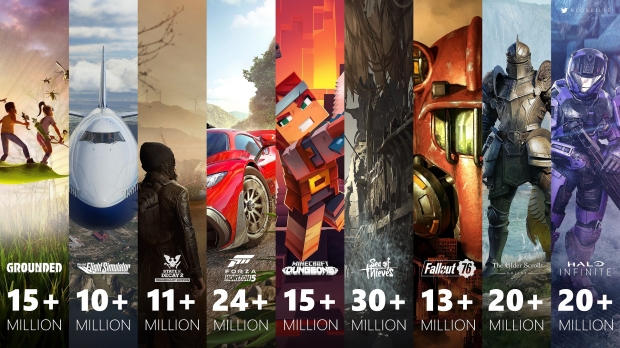 Read Also: Xbox Game Pass revenues can be tied directly to player counts, engagement, and popularity
At the Xbox Showcase 2023 event, Microsoft gaming execs revealed some very important metrics. Xbox's first-party games now have 150 million monthly active users in all first-party games, driven of course by other platforms like the Nintendo Switch and Sony's PlayStation ecosystem. Game Pass is not available on these platforms, so the service is not responsible for growth on these competing systems.
However, Game Pass certainly has helped accelerate growth in players within the core Xbox ecosystem (PC and console). Of those 150 million monthly active users (MAUs), Xbox Game Studios and ZeniMax combined have 10 separate games that have over 10 million users each. When it comes to subscriptions and digital-based gaming, engagement is one of the most valuable metrics that you can have aside from revenues.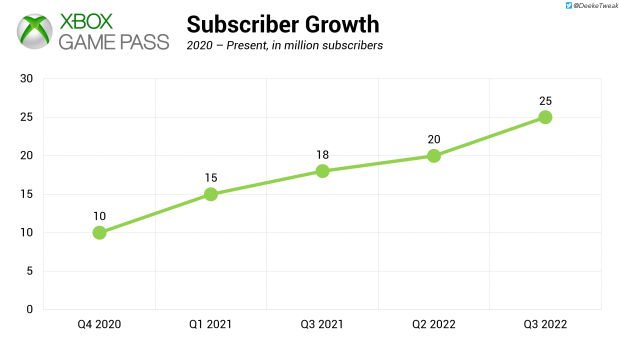 Engaged players are more likely to stay subscribed, and they are more likely to spend money on games, content, and services as long as they are interacting and involved with a particular game.
The Xbox Game Pass subscription isn't perfect, though.
One big worry about Xbox Game Pass is something called "cannibalization." If a big first-party Xbox game like Halo or Gears of War were offered on Xbox Game Pass as part of a subscription, would anyone still buy those games? This is still a worry today and it requires careful balancing and hedging of risks from third-party partners.
The answer is that yes, cannibalization is still a factor with Xbox Game Pass. The subscription is indeed disruptive to internal dynamics as well and first-party developers must also carefully tailor their games to align with specific risks and benefits of the service. We'll talk more about those alignment targets in another article, but a good way to think of it is that Xbox Game Pass has specific targets and benefits...and it's very hard to meet all of them with any one game.
Due to the cannibalization risks, we haven't seen many of gaming's largest publishers release their flagship games on Xbox Game Pass day-and-date. Sony, who has released their own direct Xbox Game Pass competitor with the new 3-tiered PlayStation Plus, very much disagrees with the day-and-date model. And rightly so, considering PlayStation first-party games already make comparatively smaller sales than third-party. Releasing games day-one on PS Plus could lower these sales even more.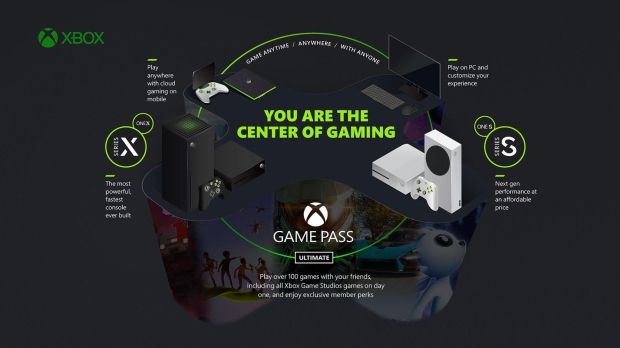 So...if Sony won't do it, why is Microsoft doing it?
The answer is pretty clear. Microsoft needs an advantage. The company is behind in console sales, and shows no signs of catching up--that's just the reality of the Big 3's standing. So Microsoft sought to gain and exploit an advantage, and that became its services. The idea is to use Xbox Game Pass as a means to capture a new measure of market share across all platforms using digital subscriptions, services, and content, and to do so where people already are.
Instead being limited to just creating new hardware, Microsoft just wants to capture more people on the devices they already own, including PCs, mobile phones, and even smart TVs with the advent of Xbox Cloud Gaming. Microsoft has a big advantage with Windows as well, considering they own and maintain the platform.
Microsoft is still behind in the console game and its efforts to capture more gamers using Xbox Cloud Streaming hasn't paid off. In fact, the service was made specifically as a means to try to capture mobile gamers. The idea was to use xCloud, the streaming service, to beam console-quality games directly to mobile phones. It was an ambitious idea, but so far it hasn't paid off.
The need to grow the Xbox business across the PC and mobile vectors is the main motivation for Microsoft's $68.7 billion bid to acquire Activision Blizzard King. Activision satisfies all of Microsoft's targeted platform expansion drivers, especially on PC and mobile, where the company is still not where it wants to be.
Circling back to Xbox Game Pass and the cannibalization risks...we see that the service can actually have the reverse effect as well. Xbox Game Pass can be, and is, a driver for full game sales.
We've heard about this phenomena in the past, and it's something that I've called the Game Pass Effect (the flip side of this effect, of course, is the lowered potential game sales as a result of the cannibalization effect risks that the value-oriented subscription can cause). Game Pass also increases the amount of games that are played, so the subscription is changing consumer habits across 3 metrics: games sold, games played, and combined money and game hours spent.
I've written about this multiple times:
Game Pass Effect
This effect was also outlined in the FTC v Microsoft federal evidentiary hearing.
During the hearing, economist Dr. Liz Bailey said that her analysis indicated substitution effects between buy-to-play and subscription gaming, which meant that it is harder to isolate subscription as its own market, despite the fact that subscription has become the core of Microsoft's games business and that subscriptions have indeed changed consumer habits by adding another layer of access, monetization, discoverability, and purchase incentives.
In her testimony, Dr. Bailey said that her analysis found that subscribers were actually buying games that rotated out of Xbox Game Pass. This is another mechanism of the service that publishers use. Like the content on Netflix or other streaming services, games offered on Game Pass are only there for a limited time. Game Pass subscribers will be able to buy the games that rotate out that they want to keep for a discounted rate.
Here's what Dr. Bailey said in the FTC v Microsoft hearing:
Q Did you try to do analysis on multi-game content library subscriptions based on data?

I did.

Q What did you look at trying to assess whether buy to play or subscription are different markets?

I had available to me Xbox telemetry data, and what I was able to look at...to assess that question, if B2P competes with subscription, are they two ways to monetize the same game?

I looked at buy to play sales of games that were added to Game Pass. I would expect buy to play sales to decline.

Q Was that the only thing you looked at?

No, I could look at the reverse of that. What happened to games that were removed from Game Pass? What happened to B2P when the game was removed? [Sales actually increased when a game was removed].

From an economic perspective, this is strong robust evidence of substitution between subscription services and buy to play.
As a brief run-down, here are all the myriad ways that Xbox Game Pass has transformed consumer habits:
Xbox Game Pass subscribers spend more money on games

Game Pass can catalyze and spark full game sales

Subscribers spend more time playing more games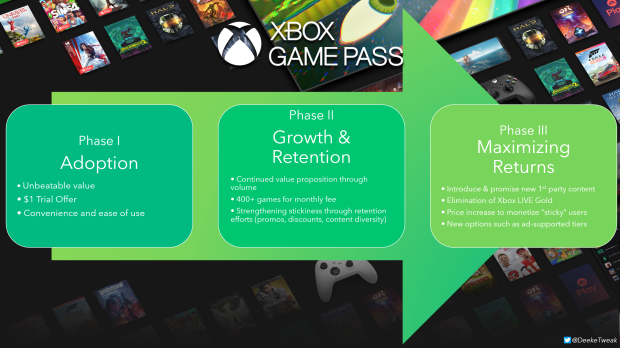 Microsoft hopes to uses these key drivers as a means to expand the Xbox business further to all platforms, and to continue its value-oriented offering as a means to capture more of the PC gaming market. While Xbox Game Pass currently has no direct native delivery for mobile gaming, it's possible that Microsoft could create some sort of mobile tier for Xbox Game Pass if the Activision Blizzard King deal goes through, however this splintered tier could simply deliver packs and content drops in popular F2P games as well as in titles like Call of Duty Mobile, Diablo Immortal, and of course, Candy Crush.
It remains to be seen how Xbox Game Pass will evolve, but I've put together a few ideas here.