When NVIDIA introduced the new ATX 3.0 ready 12VHPWR power connector with the new GeForce RTX 40 Series, we began to see reports of connectors melting on the GPU-side for the 450W power-rated GeForce RTX 4090. This sparked a wave of reporting, investigations, and even new products looking to minimize the odds of this happening.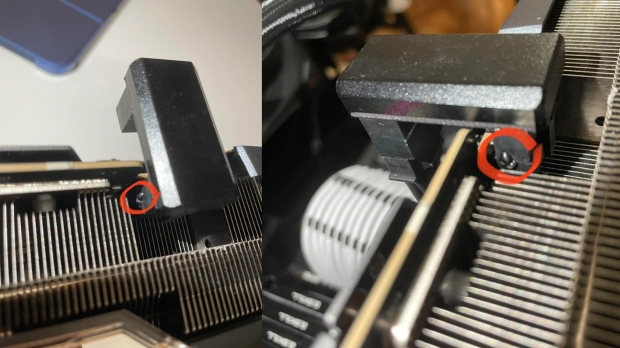 The consensus, including NVIDIA's, was that the issue resulted from "user error" - specifically, cables (via adaptors) not being plugged in correctly or adequately seated. And so, products like CableMod's 90-degree 12VHPWR Degree Angled Adapter were seen as excellent alternatives to the pack-in adaptors, offering better stability and minimizing stress on the connection that could lead to it becoming loose. According to reports CableMod has sold upwards of 40,000 or more of these adaptors.
But, CableMod's custom 12VHPWR Degree Angled Adapter also melts, with one Reddit user noting it was correctly connected. The issue even caused the adaptor to fuse with the 12-pin connection on the GPU, so it's essentially stuck there, connected to the GeForce RTX 4090.
As per an investigation by the YouTube channel JayzTwoCents, he rightfully called out the quick and responsive feedback from CableMod to the point where the company has been replacing damaged hardware to keep gamers gaming. But, JayzTwoCents also showcases that even when plugged in correctly and the adapter makes its 'click' sound, it can still wiggle and unseat to cause the burnout issue without the user knowing potentially.
So it's a case of both CableMod being correct that things should be fine when seated and connected and the user in relation to it being connected with the 'wiggle room' pointed out by JayzTwoCents potentially being the issue. With reports of a new 12V-2x6 power connector coming as part of the ATX 3.1 standard, it definitely looks like the whole issue of the connection being properly seated is the problem - and the design is changing to rectify that.