If you thought real-time ray-tracing effects in games like shadows or reflections were taxing on GPU hardware, you probably haven't seen path-tracing in action. Path tracing essentially makes all lighting and light-related effects a real-time calculation, like RT on steroids, and the results are incredible but also incredibly taxing on GPU hardware.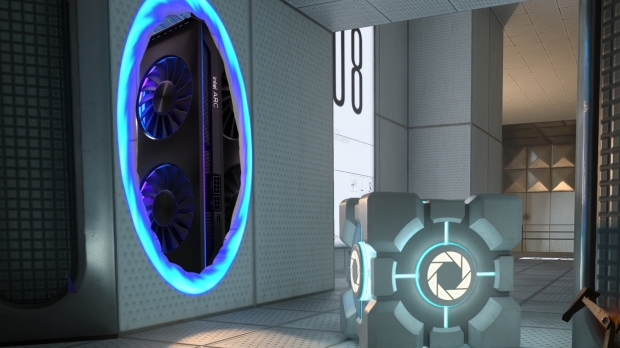 Last year we saw the release of Portal with RTX from NVIDIA, which took Valve's iconic first-person puzzle game and turned it into a stunning path-traced showcase. This a glimpse at the future because even on a GeForce RTX 4090, you still need DLSS Super Resolution and Frame Generation to play it with a high frame rate.
The same goes for the recent Cyberpunk 2077 RT Overdrive mode from CD Projekt Red, which takes the game's impressive RT effects to present a Technical Preview of a full path-traced Night City to explore. The results are stunning, but like with Portal, you'll need DLLS 3 to experience it properly without devolving into a stuttering slideshow. But what if you get real-time path tracing to run on a mainstream GPU like the Intel Arc A750?
That's the goal for Team Blue, with a new article from Intel revealing that the latest advances in path-traced light simulation and neural graphics could lead to integrated GPUs running path-traced lighting effects in real-time. Intel notes that its research has found more efficient ways to calculate things like reflections and even speed up the rendering process - and includes its findings in three papers.
"Across the process of path tracing, the research presented in these papers demonstrates improvements in efficiency in path tracing's main building blocks, namely ray tracing, shading, and sampling," Intel's Anton Kaplanyan writes. "These are important components to make photorealistic rendering with path tracing available on more affordable GPUs, such as Intel Arc GPUs, and a step toward real-time performance on integrated GPUs." Naturally, this includes the help of AI and Neural Graphics for compression.
As much as the performance of Intel Arc GPUs seemed to be spotty at launch (and this has improved dramatically as drivers have matured), real-time ray-tracing performance has been consistently impressive, alongside Intel's AI-based XeSS upscaling. RT on the Arc A750 GPU is notably better than AMD's second-generation Radeon RX 7600 RT performance. And not far behind the GeForce RTX 4060.
With Intel prepping its next-gen Battlemage hardware for 2024, we'd love to see some of this make its way to next-gen Arc - as a massive gen-on-gen RT uplift would go a long way to making path-tracing on a mainstream GPU a reality.