AMD's new HYPR-RX technology was announced before the launch of the new Radeon RX 7900 XT and Radeon RX 7900 XTX late last year, created as a means to boost performance in games with no tweaking required on the user's side. HYPR-RX isn't a new technology per se, but a one-click solution within AMD's Adrenaline software that enables AMD Anti-Lag, Radeon Boost, and Radeon Super Resolution (RSR) in supported titles.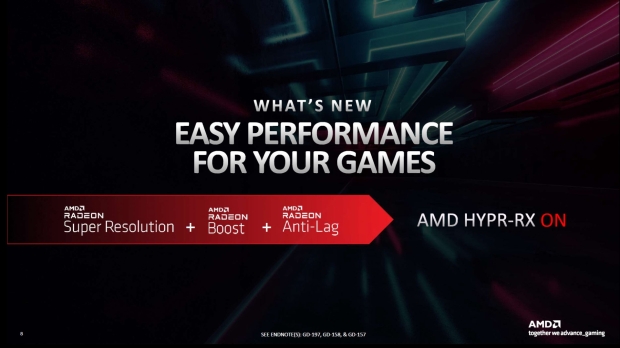 The combination of technologies is designed to deliver fast frame rates and lower latency instead of separating these options. This would be an excellent tool for competitive games where smooth and reliable performance is the goal.
According to AMD's roadmap, HYPR-RX was on track for the first half of the 2023 release, but that window has now come and gone, with no word from the company on when we can expect to see the technology.
For those wondering what these individual technologies entail, AMD Anti-Lag is similar to NVIDIA Reflex in that it's all about reducing the gap between user input and seeing the result on a display. For a competitive shooter like Apex Legends, every millisecond counts. Radeon Boost is an image-scaling technology that lowers the resolution during fast motion, so there's less of an impact on overall visual fidelity.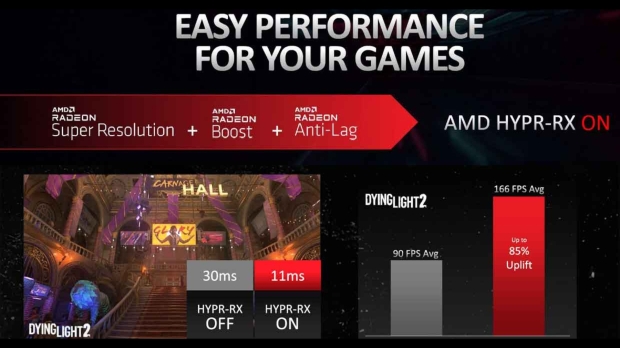 Finally, Radeon Super Resolution (RSR) is essentially a driver-side version of FSR 1.0's upscaling, so it's not dependent on the technology being in a specific game. Kind of like how NVIDIA's Image Scaling works in GeForce Experience. AMD's HYPR-RX technology boosts performance, so it's more suitable for the Radeon RX 7600 than the powerful Radeon RX 7900 XTX - which can deliver impressive 4K performance without breaking a sweat.
AMD HYPR-RX was announced alongside FSR 3.0, the company's take on DLSS 3's Frame Generation, which is also TBC in terms of release.