Elon Musk has challenged Meta and Facebook founder Mark Zuckerberg to a cage fight, Zuckerberg has accepted, and a location has been mentioned.
The saga began when Musk said that he was "up for a cage fight" with Zuckerberg on a post that was discussing rumors that Meta is preparing to launch a Twitter-killer called "Threads". The rumors suggested that this new app was Meta's "response to Twitter" and would allow Instagram users to automatically migrate all their followers/user information, making the transition seamless.
Musk wrote, "I'm sure Earth can't wait to be exclusively under Zuck's thumb with no other options. At least it will be "sane". Was worried there for a moment 😅". Followed by, "I'm up for a cage match if he is lol", which sparked a response from Zuckerberg, who posted on his Instagram Story, the below image that says "Send me location". Musk promptly responded by writing, "Vegas Octagon" and explained that he has a special move called "the walrus" where he lays on top of his victim and "do nothing".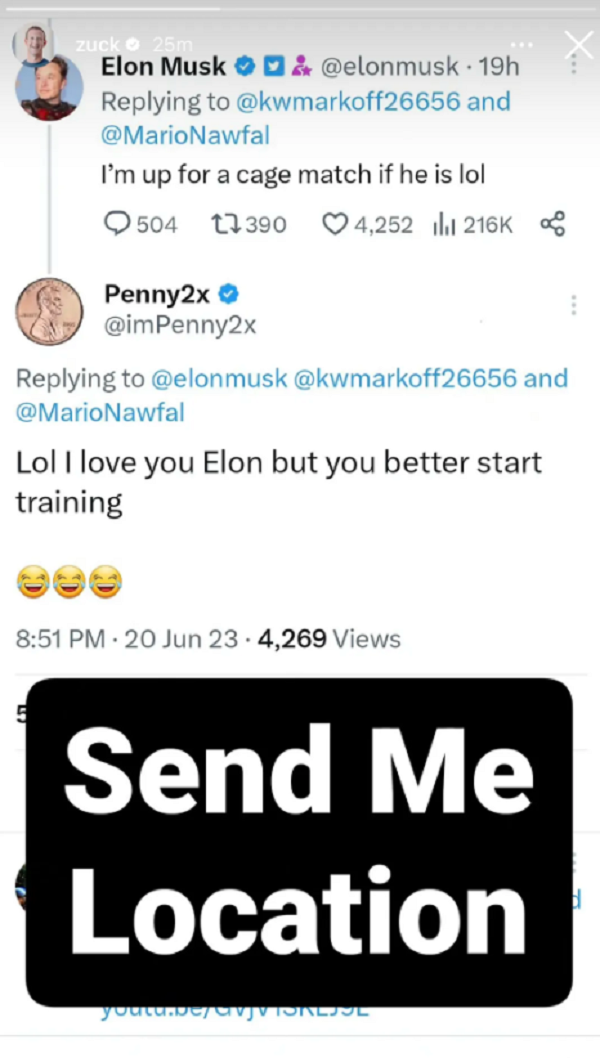 It truly would be a spectacle to watch if Musk ended up following through with an octagon fight with Zuckerberg. However, I don't think Musk's walrus tactic would serve him too well especially considering that Zuckerberg has been training martial arts for quite some time now, while also gaining significant muscle mass. Zuckerberg's sparring clips have even impressed the likes of Joe Rogan and other UFC experts.
While it sounds like it would never happen, Musk wrote on his Twitter, "The most entertaining outcome is the most likely."