Yoshi-P regrettably announced that Final Fantasy XVI will have a day one patch on PlayStation 5, but the game is still playable fully offline.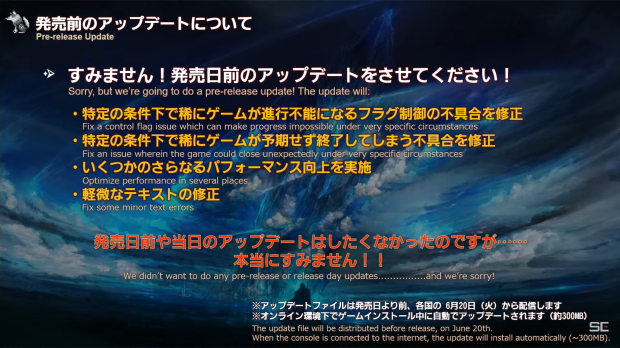 Square Enix originally wanted to release Final Fantasy XVI as a complete game that didn't need a day one patch. Now the devs at Creative Business Unit III have announced the game will actually have a day one update that addresses very specific bugs, but this update won't be required to play the base game.
Anyone who owns a disc version can still play Final Fantasy XVI fully offline, as well as gamers who already have FF16 installed onto their PS5. The update is not mandatory in order to start playing the game. The update will be 300MB in size and will release on June 20th, just 2 days before the game's final release.
"This update will come before the day one release. If you have a digital version, and you've already downloaded it on the system, if your PS5 is hooked up to the internet it will download this automatically and it will be ready for day one," Square Enix localization manager Michael-Christopher Koji Fox said in a recent stream.
"This is a very, very minor issue and even if you don't get the update, you will still be able to play the base game. This is a rapid patch so it's not necessary to actually play the game. So those of you who don't have that internet connection, maybe can't get it in time, you'll still be able to play the game."
The update brings several fixes including:
Fixes a control flag issue which can make progress impossible under very specific circumstances

Fixes and issue wherein the game could close unexpected under very specific circumstances

Optimizes performance in several places

Fixes minor text errors