Some weirdness in the world of AMD drivers for Radeon graphics cards, with two AMD Software: Adrenalin Edition releases adding F1 23 support. AMD Software: Adrenalin Edition 22.40.57.06 for F1 23 covers all Radeon GPUs from the Radeon RX 7900 to the RX 6000 Series and even cards from the Radeon RX 500 Series.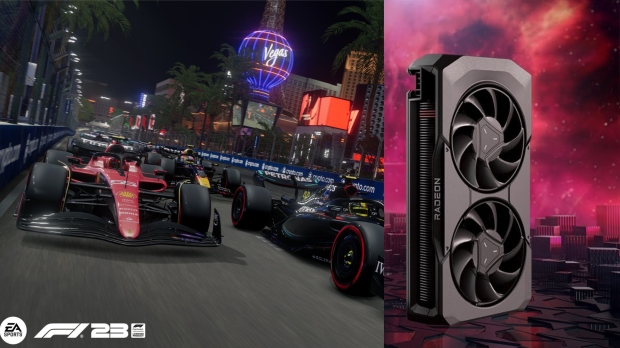 That is all GPUs apart from one, the new AMD Radeon RX 7600. And so it looks like AMD has released an F1 23 optimized driver, AMD Software: Adrenalin Edition 23.10.01.37, specifically for the Radeon RX 7600. And separately from the mainline driver update.
This isn't the first time we've seen a split in driver support for AMD drivers for the new RDNA 3-based Radeon RX 7000 Series, with the company taking a few months to unify its driver updates to support the new cards and previous generation cards after the launch of the Radeon RX 7900 and Radeon RX 7900 XTX in December.
Apart from Radeon RX 7600 support for F1 23, it also highlights some Known Issues for the new mainstream GPU, stuttering and sub-optimal performance when playing VR titles, and crashes and corruption when using Blender.
So, as of now, if you're rocking a new Radeon RX 7600, you're looking at separate driver releases from the standard AMD Software: Adrenalin Edition packages or this is simply a once-off to iron out some underlying issues not present in the patch notes.
And speaking of issues, in the AMD Software: Adrenalin Edition 22.40.57.06 for every Radeon GPU that isn't the 7600, AMD still lists a couple of things that have been there since the launch of the Radeon RX 7900 XT and XTX - namely, high idle power issues, and VR stuttering. Plus, the Factory Reset option is still 'temporarily disabled.'