Recently we reported on the seemingly dire state of the discrete graphics card market, with a report from Jon Peddie Research stating that total AIB shipments decreased by around 40% in Q1 2023 compared to the same quarter from last year.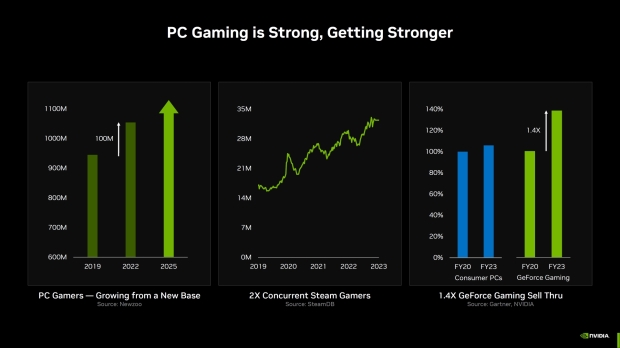 Well, NVIDIA's SVP of Gaming, Jeff Fisher, has presented a somewhat different story at the recent Bank of America Global Technology Conference, stating that the Ada Lovelace generation and the new GeForce RTX 40 Series are performing exceptionally well in terms of revenue and sales. With a compound annual growth rate (CAGR) of 20% for the GeForce segment of NVIDIA's business through FY23, Jeff Fisher specifically highlighted the success of the GeForce RTX 4070 and RTX 4070 Ti models.
Of course, with higher MSRPs compared to their Ampere generation equivalents, the idea of higher revenue and growth beings to make sense, with Jeff Fisher noting that the GeForce RTX 4070 and RTX 4070 Ti have generated revenue 3X faster than the GeForce RTX 3070 and RTX 3070 Ti - or 40% faster.
"As you guys know, we launch our products, our new generations from the top down, starting at the top," NVIDIA's Jeff Fisher said at the Bank of America Global Technology Conference. "Ada has taken us a little longer to move down the stack than [a] typical generation. So, for this reason, we've got a fair amount of history on the USD 699 [and] up class of Ada, our 4070 Ti. Regarding the revenue generated, it's ramping much faster, 3X, and about 40% faster than Ampere. We're super pleased with the Ada ramp to date."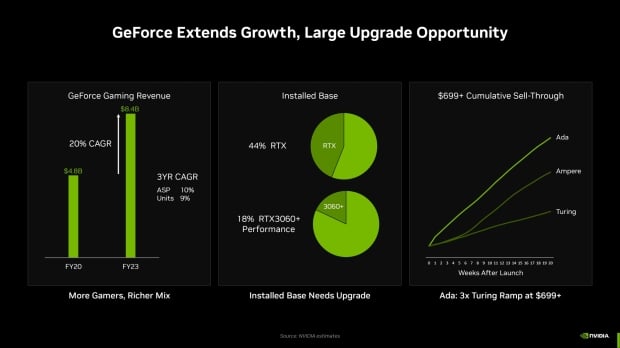 NVIDIA also presented some of its traditional green and black GeForce slides showing that as PC gaming grows, the GeForce brand is there at every step. The most interesting takeaway is that people upgrade to more expensive GPU models from the GeForce line-up. Jeff Fisher says PC gamers are "buying from a much lower class of product, which is super exciting for us."
This is good news for the bean counters but also troubling due to the significant increase in MSRPs for this new generation of GeForce. The answer was yes when asked if gamers who spent hundreds of dollars more for GPUs during the Ampere generation are now spending hundreds more on new Ada Lovelace GPUs. But with the caveat, "relative to what they had."
Finally, NVIDIA also shared a slide that outlined that of all of its GeForce customers, roughly 44% are gaming with a GeForce RTX model (which covers the Turning, Ampere, and Ada generations) - and that gamers on the lower-end generally wait 3-4 years before upgrading. No doubt, with the impending arrival of the USD 299 GeForce RTX 4060, NVIDIA is looking to get more of these gamers into the RTX ecosystem.