Sony and Insomniac Games today announced that Spider-Man 2 will launch on October 20, 2023 exclusively on PlayStation 5.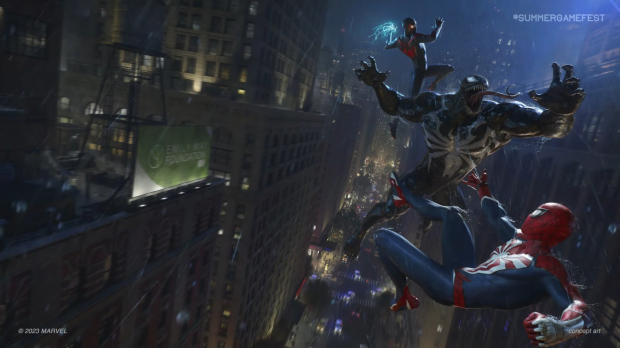 Insomniac Games' Bryan Intihar showed up at Summer Game Fest today to reveal Spider-Man 2's launch date on PS5, and dropped key details about the symbiote suit and Venom's involvement in the game. Intihar says that Insomnaic is "very confident" in the October launch date.
While on stage, Intihar says that Venom won't be Eddie Brock. Instead, Venom's identity will be separated from the comics and films--the team wanted to do something completely original.
"It is not Eddie Brock. Our goal was to tell an original story, something you haven't seen in the comics or movies, how the story plays out...who is Venom, you'll have to play the game to find out."
Intihar went to on to talk about how the symbiote suit is affecting Peter Parker throughout Spider-Man 2, touching upon the capabilities and new story beats that the game will push forth.
"The raw power, the strength, the transformation of Peter's moves...we call him the acrobatic improviser, but there's a lot more strength and aggression in how Peter moves and talks. It's not just about the gameplay, but the story. There's much more of that journey."
Intihar also confirms that there are "a lot more than 2 villains" in Spider-Man 2, with Venom and Craven being the principal antagonists that were revealed so far.
Spider-Man 2 launches exclusively on PlayStation 5 on October 20, 2023, and it will be a singleplayer-only experience without co-op multiplayer.