With Diablo IV now officially out in the wild - breaking Blizzard sales records - if you're rocking a GeForce RTX 40 Series GPU, you've probably checked out its impressive DLSS 3 implementation. Which, even on the new GeForce RTX 4060 Ti, delivers incredible performance with all visual settings maxed out.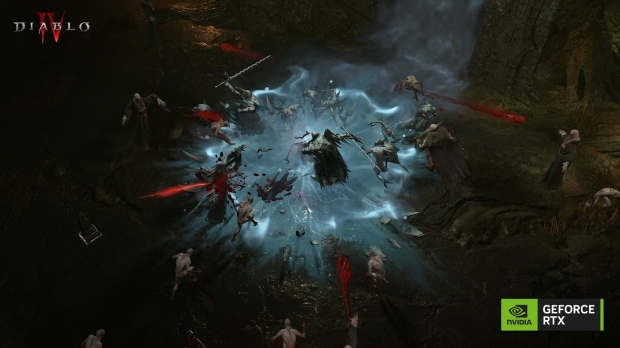 Diablo IV scales incredibly well across most PC hardware, it even runs fine on the Steam Deck, but the art and visuals do pop once you dial things up. As per NVIDIA's internal benchmarks playing at 4K with max settings and DLSS 3 enabled everything from the GeForce RTX 4070 to the RTX 4090 hits well over triple-digits.
Firing the game up on the MSI GeForce RTX 4060 Ti Gaming X Trio, I pushed Ultrawide 1440p into the triple-digit region, which was impressive. The good news is that visual fidelity and responsiveness were great, too - thanks partly to NVIDIA Reflex - which makes Diablo IV an excellent example of DLSS 3 gaming.
The next major game to get DLSS 3 support on PC is Sony's former PlayStation 5 exclusive Ratchet & Clank: Rift Apart. From Spider-Man devs Insomniac, this game is like a Pixar movie come to life, where at launch, it made full use of the PS5's new internal storage to transition and load gorgeously detailed environments seamlessly and in seconds.
As per the PC trailer for the game, its visuals are being improved with more ray-tracing effects (shadows) and support for unlocked frame rates and ultrawide resolutions. The game looks stunning, but based on the current state of PC gaming, it wouldn't be unusual to play the 'let's wait and see' game.
But, with Sony's first-party studio Nixxes handling the PC port (and they've got a great track record), the hope is that this will buck the recent trend of poorly optimized PC ports when the game launches on July 26. Ratchet & Clank supports a full suite of rendering tech like DLSS 3, DLSS 2 Super Resolution, AMD's FSR 2, and Intel's XeSS.
In other DLSS news, NVIDIA notes that the cinematic return of Alone In The Dark in October will arrive with DLSS 2 support and that popular recent releases Wild Hearts and Wo Long: Fallen Dynasty have finally gotten their DLSS updates.