Intellivision's new CEO Phil Adams delivers an update on the company's controversial Amico games console...and things don't sound great.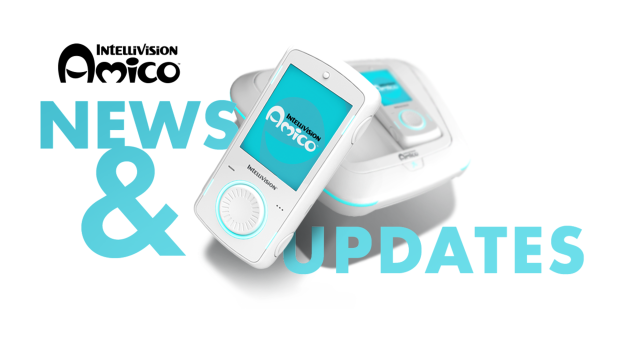 After record highs during the pandemic, the games industry is being hit by a great contraction point that has led to mass layoffs across multiple companies and entertainment sectors. Digital giants are laying off thousands of workers, and gaming has also been hit hard by current inflation-driven market economics, leading giants like Electronic Arts and Microsoft to make staff reductions.
The current market is making it harder for new entrants to break in, especially those that aspire to make their own video games console like Intellivision. Much like the Atari VCS, the Intellivision Amico always sounded like an iffy bet, and it didn't help that Intellivision had also made significant layoffs while also previously delaying the Amico console refunds.
Now over a year after former CEO Tommy Tallarico stepped down, Intellivision has delivered a new update on its plans for the future. In short, the company says it can no longer rely exclusively on the Amico console platform and will now instead license its IPs out to third-party studios/publishers while also releasing its Amico titles on other platforms like mobile.
Intellivision's current CEO Phil Adams says that the company still plans to release the Amico console. To remind fans, investors, and gamers that a console is on the way, Intellivision released a new promo video that shows a father and son playing Shark Shark together on the platform.
Check below for the full update that was issued by Intellivision:
Read Also: Intellivision has raised at least $39 million for the Amico
The last 18 months, since becoming the CEO, has been an extremely difficult time for the Intellivision business. A long list of disappointments from both inside and outside of the company had to be taken head on. During this time we laid off a large portion of our staff, restructured our management team, and began the process of reevaluating every aspect of the business, which included the path that lay ahead for Intellivision.

What we have distilled down from countless hours of self assessment is that we are, or more accurately, wish to be, in the business of creating a living room experience that brings people of various ages together in group play. It is the experience between people, sitting in the same room, that will be our primary measure of success. This, first and foremost, comes from offering great content.

As an entertainment business, we realize that creating great content requires world class partners and a focus on strategies where we can effectively achieve the necessary level of excellence to succeed. To this end, we will be announcing a string of new partnerships that will not only help bring fun and innovative content that captures the Amico experience, but also bolsters and celebrates our content's appeal by (1) licensing our IP to development partners who have product pedigrees that are creatively aligned and best poised to bring something great to market, (2) leveraging our IP in ways that ensures delivery on Amico but additionally expands our content to entirely new audiences Intellivision would otherwise be unable to reach and (3) acquiring new IP that embodies Amico and fits our strategic focus. This will include licensing IP for other platforms where it makes sense to do so.

Our commitment to delivering a unique and innovative platform that brings people together has not wavered. What has changed is our philosophy on how to deliver that experience. The business environment is quite different from what it was in 2018 when the original Intellivision business plan was put together. We cannot solely be dependent on a traditional hardware console business model. The cost and time to scale such a business is too great. We must be more creative in how we deploy our intended entertainment experience - not only delivering a better experience for our customers, but also reducing the time and cost to scale the business.

We want to assure our fans that shipping a console remains a part of our product strategy. The development and hands-on testing of our pilot units have been a successful step forward. As a testament of this progress, we are pleased to share with you this video of a father and son playing Shark! Shark! on one of the pilot units in their home!

As part of our expanded strategy, we also plan to bring the Amico experience to other hardware platforms, starting with mobile devices, under the name Amico Home. Amico Home will dramatically reduce the hardware footprint needed to enjoy Amico games and provide more developers the opportunity to explore the creative potential of in-room multiplayer games with our innovative physical and smartphone controllers. This broadening of the talent pool will bring new ideas and gaming that will shape the future of Intellivision and our place in the market.

We are excited for this future and what it means for bringing the Amico experience to the public. Those who supported Intellivision early on helped set the foundation for all that we have been able to achieve, and we are truly thankful to you all. In the coming weeks, those that have maintained a deposit will be able to sign in and verify their spot on the priority list (Amico Club List). The Amico Club List will be used as the primary mechanism to prioritize access to special products, early access to new games and other unique offers. More details to follow.

Again, we thank you for your patience and support as we chart a new course for Intellivision and establish our own unique position in the vast and vibrant video game industry.