From launch to present, Nintendo has generated over $69 billion from its Switch family of products.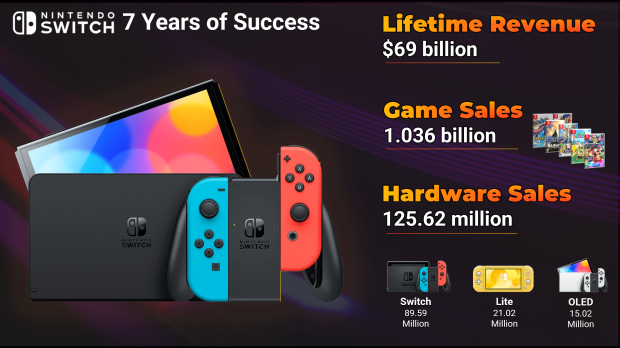 The Switch has had a remarkable 7-year run, and the hardware is only just now starting to slow down. The Switch handheld-console ecosystem just broke the 125 million shipment milestone, and has now sold more software than any other platform in Nintendo history. It could also beat the Nintendo DS by 2025.
Based on data provided by Nintendo and collected by us, the Switch family of hardware has made about $69.043 billion for Nintendo in the last 7 years on the market (March 2017 - March 2023). The company has made over $74 billion in total net sales since the Switch's launch, with the remaining $5 billion being generated from other platforms and segments, including the 3DS handheld.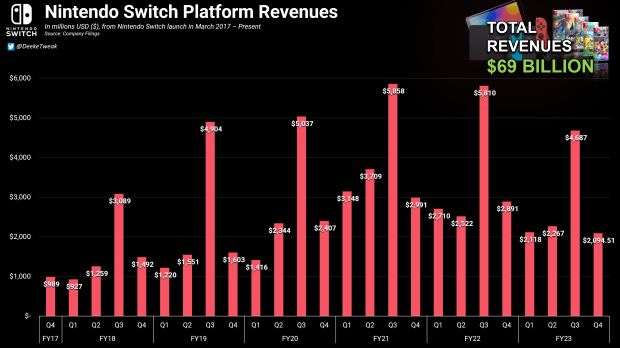 Read Also: Nintendo Fiscal Year 2024: $11.84 billion sales, down $3bn YoY, still beating pre-pandemic levels
Unfortunately, we can't be sure exactly how much the Switch has earned from hardware and software, but we can determine that the Switch made up 94% of Nintendo's net sales revenues for the past 7 years.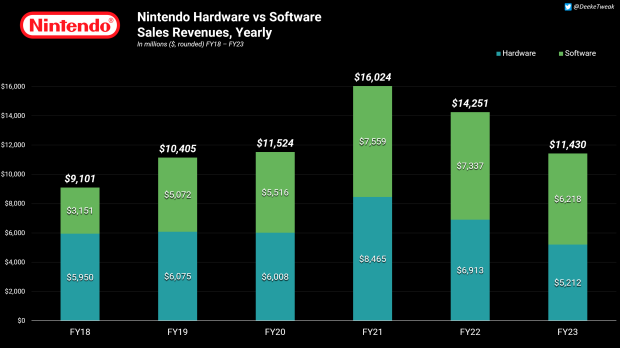 While software remains strong, Nintendo expects to sell less hardware in Fiscal Year 24, which ends March 2024. All metrics are expected to be down, including net sales, operating profit, and overall net profits, with hardware shipments decreasing to 15 million.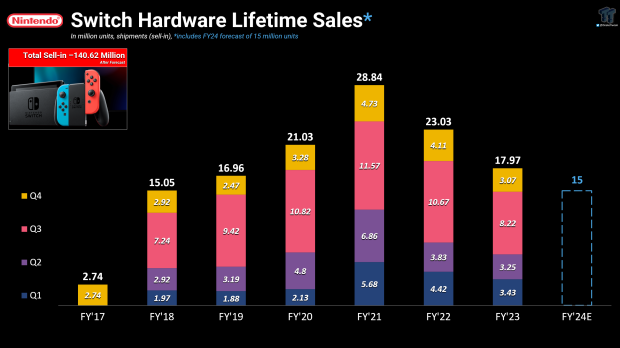 Nintendo is expected to potentially launch a new console in Fiscal Year 2025, however it remains to be seen when we'll see new hardware. Nintendo's new system is expected to be a handheld-console hybrid similar to the Switch and deliver upgraded performance, including upscaled 4K gaming, thanks to a new-and-improved Orin-based Tegra chip from NVIDIA.