Nintendo just released its Q4 and full Fiscal Year 2023 results, and it's fair to say that investors won't be satisfied with the numbers.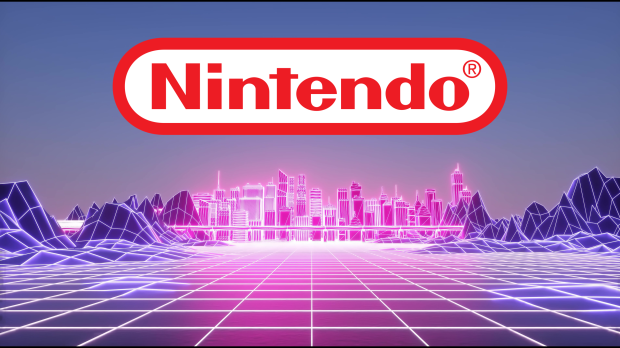 Nintendo's latest Fiscal Year 2023 earnings show the company is currently on a downward flux as the Switch passes its seventh year on the market. The Japanese games-maker reported $11.84 billion in net sales, down nearly $3 billion from last year and representing a 20% YoY decrease.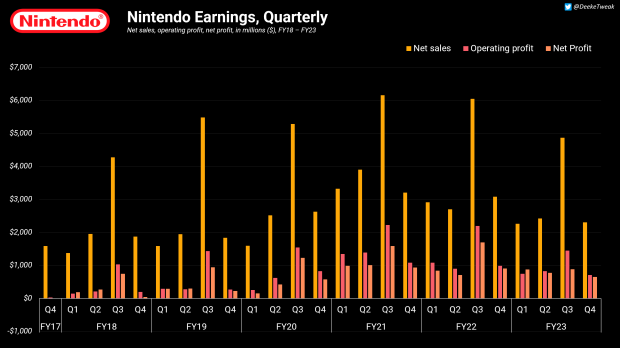 Despite the dip, Nintendo is still beating its pre-pandemic performance, and many publishers had expected this kind of market correction as pandemic spending gives way to unfavorable inflation-driven economics.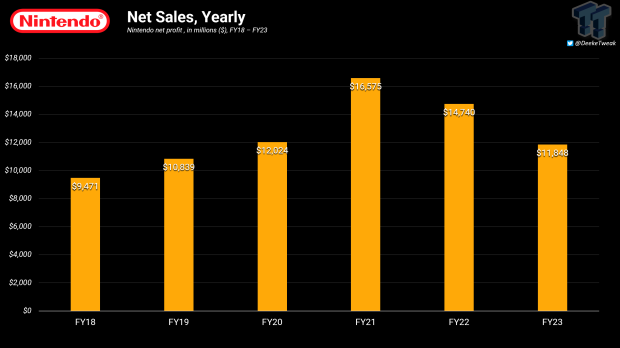 The drop in net sales was driven by downward trends in both hardware and software sales. During the year, hardware dipped by over a billion dollars to $6.218 billion, whereas software saw a sharper decline of $1.7 billion, dropping down to $5.212 billion for the FY23 period.
As far as operating profit and net profit, these were also down in FY23.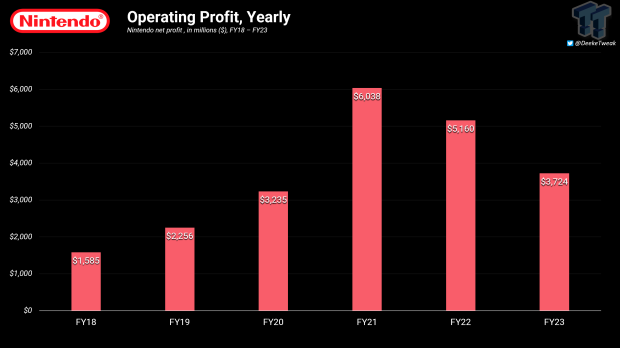 Nintendo explains that operating profit was down in part due to a 7.9% increase in overall expenses, including increased costs in shipping and delivery as well as higher R&D expenditures (remember, Nintendo is working on its next Switch console, so R&D spending is likely to increase over time).
During the year, Nintendo managed to generate $3.724 billion in operating profit, down $1.4 billion year-over-year, due to lower hardware and software sales combined with higher expenses. Operating profit margins were 31.5% for the fiscal year, down about 3.5 percentage points.
Net profit likewise declined to $3.179 billion, down $971 million from last year.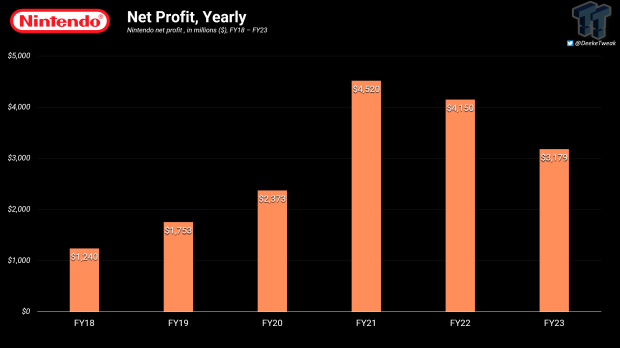 Things aren't looking much better for Fiscal Year 2024 (FY24), the current period that ends in March 2024. This year will be the slow-down period for Nintendo and its mega-popular Switch platform. Nintendo is then expected to rise back up with a big new hardware launch in FY25 to help raise earnings.
For the fiscal year ending March 2024, we forecast a decrease in net sales and profits due to a reduction in the unit sales of Nintendo Switch hardware and software, as well as the assumed exchange rate having an appreciated yen compared to the fiscal year ending March 2023," Nintendo President Shuntaro Furukawa said in the earnings brief.