Nintendo's handheld-console hybrid just entered its 7th year on the market, but that hasn't stopped the platform from shipping over 125 million units.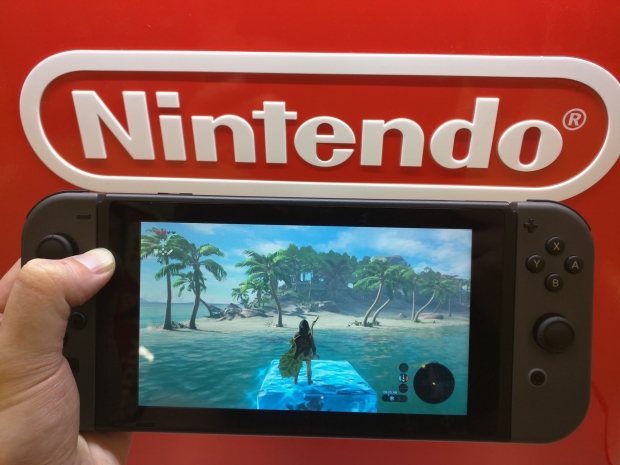 The Nintendo Switch is understandably cooling down as it enters Year 7, however total cumulative worldwide shipments have broken 125.62 million as of March 30, 2023. The Switch could very well become Nintendo's best-selling hardware ecosystem of all time and dethrone the DS. How likely is that to happen, though?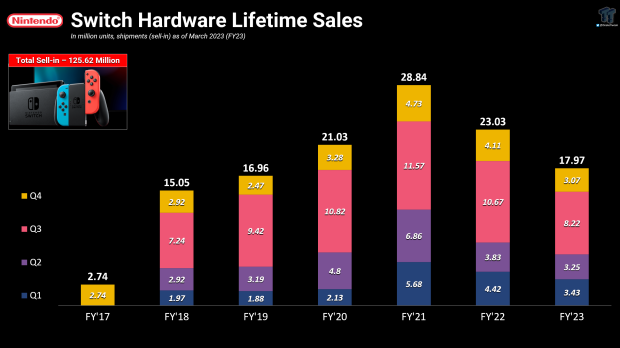 Before we celebrate the Switch's milestone, we need to take a closer look at the system's overall shipment trends. FY23 shipments were actually down a considerable 5 million units year-over-year to 17.97 million. Nintendo also missed its shipment target by over 1 million units for the year. Nintendo says Switch production has been affected by the shortage of semiconductors in the first half of FY23.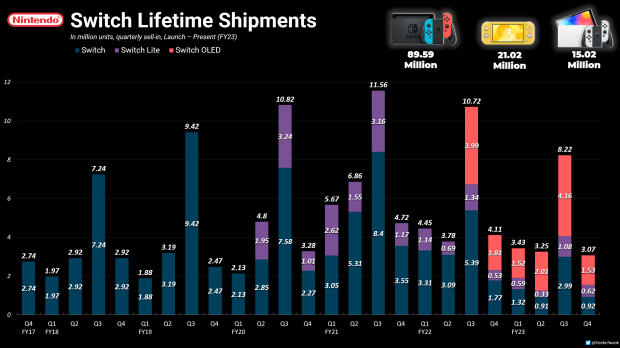 Of the 17.97 million Switch consoles sold during the year, the Switch OLED models led the strongest demand, followed up by the base units and then the handheld-only Switch Lite.
Now let's take a look at whether or not the Switch can beat the DS, and if so, how long it will take.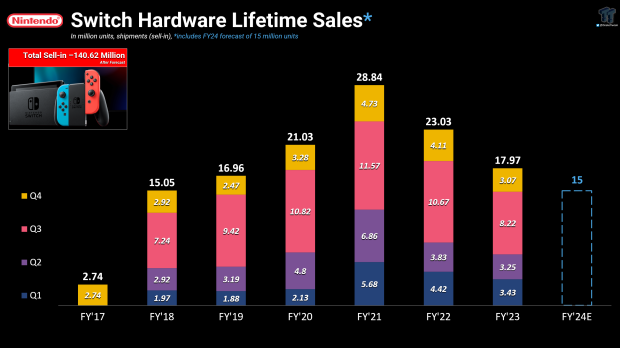 Nintendo expects to ship even less Switch models in FY24, this current fiscal year, signalling the system is entering the end phase of its lifecycle. This forecast would push total cumulative Switch shipments to 147.65 million, which is shy of the DS' mighty 154.02 million shipments.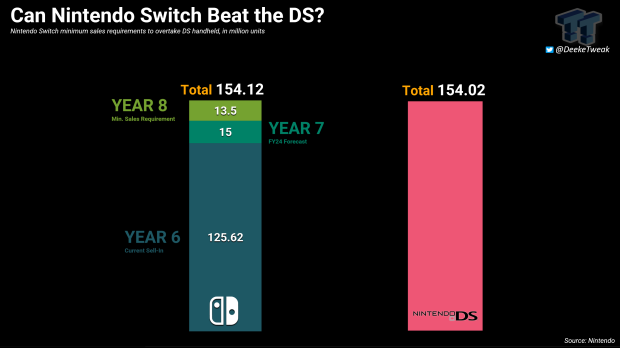 A quick bit of math shows Nintendo would need to ship over 13.5 million Switch consoles in FY25 to push total Switch lifetime shipments past the DS' high water mark. This could be very unlikely to happen in Year 8 of the Switch's lifecycle, especially if Nintendo releases new next-gen hardware.
On the other hand, it's possible the new console will be recognized as part of the Switch family, and if so, then it's highly likely the Switch ecosystem of products would become the best-selling hardware of all time. But with at least 4 hardware varieties on the market, that would be expected.