Elden Ring is a smash success with 20.5 million lifetime sales as of March 2023.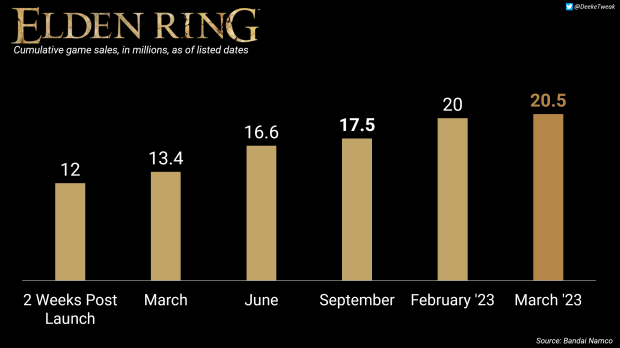 FromSoftware's Elden Ring was a lightning in a bottle moment that happens once every generation. The game offered an incredibly robust open world filled with mysteries that sent players on a kind of massive interactive scavenger hunt. The collective gaming world came together to share their findings in a fun social experience. Judging by the review scores, this year's equivalent could be Zelda: Tears of the Kingdom.
Elden Ring's significant popularity led to incredible sales for Bandai Namco, FromSoftware, and the developer's parent company Kadokawa Group. Charted data shows that Elden Ring managed to sell some 500,000 copies since its one-year anniversary in February 2023.
"In the digital business, sales of repeat home video game titles increased from 30.94 in FY22 to 34.73 million in FY23. In addition, Elden Ring has sold 20.5 million units worldwide," Bandai Namco said in a recent FY23 report.
Publishers are eager for Elden Ring's success to continue. Right now FromSoftware is working on the new Shadow of the Erdtree expansion, and Kadokawa hints that there could be even more expansions on the way.
"We are now developing DLC that will contribute to the enhancement of the ELDEN RING franchise. We are pursuing the maximization of profit by prolonging the life of IP," the Kadokawa Group said in its latest earnings report.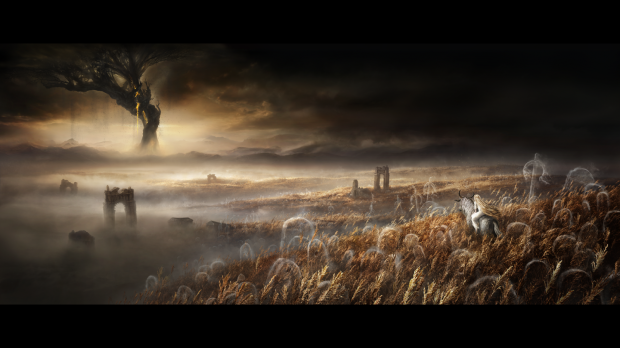 Read Also: Elden Ring Review: One Ring to Rule Them All
This echoes sentiments from Elden Ring's dev team, who still has a few ideas on what they'd like to do next with the franchise.
"As for Elden Ring, we have several more things we want to do," Hidetaka Miyazaki said on stage after Elden Ring won the Game of the Year award at The Game Awards 2022.
Outside of Elden Ring, FromSoftware is also planning to release the hotly anticipated Armored Core VI: Fires of Rubicon on August 25, 2023.