FromSoftware and Bandai Namco just dropped the first Armored Core VI: Fires of Rubicon gameplay footage...and it looks absolutely incredible.
It's been a long time since gamers have played a new Armored Core, but the sci-fi mech series is back with a bang. Today the devs at FromSoftware released new details, footage, and confirmed an August 25 release date for the game, outlining the central industrial-tech world of Rubicon that's been destroyed in a fiery cascade and showing off some decidedly next-gen combat.
The devs also reveal new details like Armored Core VI's new assault boost feature, which allows you to rapidly close the distance and strike enemies with close-ranged attacks. There's also a stagger element that will knock enemies off guard and stun them for a short period.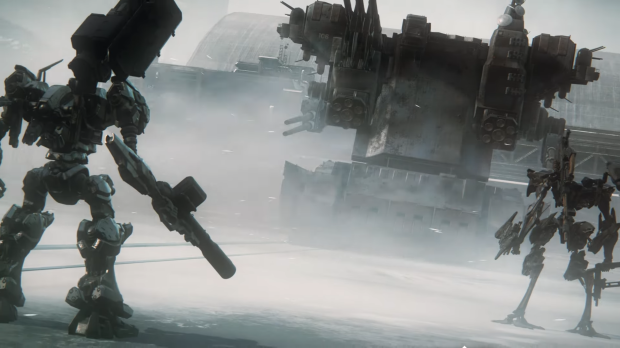 In an interview with the PlayStation Blog, game director Masaru Yamamura commented on the game's overall combat pacing and feel:
"The average movement speed across the game is somewhere between Armored Core 3 and Armored Core 5. But Armored Core VI has been developed to bolster the changes of tempo and combat. With instantaneous bursts of speed and sudden changes of tempo, combat can often reach the dizzying heights of say, Armored Core 4."
FromSoftware also confirms there will be massive hulking bosses that take up the entire screen, which is reminiscent of classic Soulsborne games.
Armored Core VI: Fires of Rubicon releases on both PS4, PS5, Xbox Series X/S, and PC on August 25, 2023.
A mysterious new substance called "Coral" was discovered on the remote planet, Rubicon 3. As an energy source, this substance was expected to dramatically advance humanity's technological and communications capabilities.

Instead, it caused a catastrophe that engulfed the planet and the surrounding stars in flames and storms, forming a Burning Star System.

Almost half a century later, Coral has resurfaced on Rubicon 3, a planet now contaminated and sealed off by the catastrophe. Extra-terrestrial corporations and resistance groups fight over control of the substance. The player infiltrates Rubicon as an independent mercenary and finds themselves in a struggle over the substance with the corporations and other factions.