Capcom lays out ambitious long-term plans to sell 100 million games per year, and it's almost halfway there. Increasing game prices to $69.99 on PS5 and Xbox Series X/S could dramatically impact sales potential, however.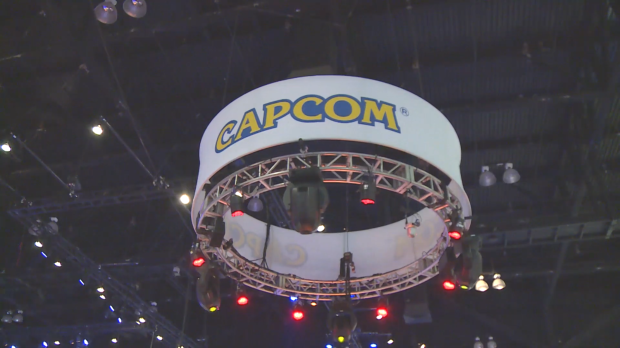 Capcom is on fire right now. In its latest Fiscal Year 2022 report, Japanese games publisher recorded its 10th consecutive year of record operating profits, and also sold a record-breaking 41.7 million video games throughout the year. Capcom is on the up-and-up, and the company wants to keep this growth trajectory going and challenge itself to eventually achieve 100 million game sales per year.
It's a lofty goal, one that will push Capcom to new heights in content creation but also careful marketing, distribution deals, and pricing of its products. We've seen that the new $69.99 price hike has detrimentally impacted game sales--PlayStation sales data indicates gamers are buying fewer products, but spending more money on the games that they do buy.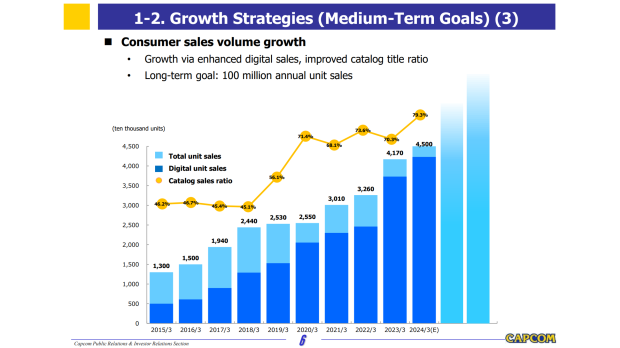 Read Also: Market research: Gamers disapprove of $70 game prices, but it's unlikely to change
If Capcom wants to hit this incredibly high target of 100 million game sales per year, then it might not choose to raise the price of its games to $69.99, at least for a while. The real make-or-break determination could be with Pragmata, which appears to be Capcom's first current-gen exclusive title on PlayStation 5 and Xbox Series X/S.
We don't know for sure what will happen, and Capcom says that catalog game sales will be the most important mechanism for this goal, which is rightly so given that the company made 70% of its game sales from already-existing titles.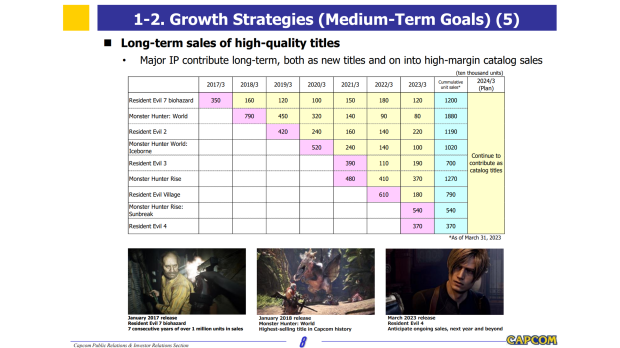 Read Also: Publishers reveal how expensive games are to make, discuss AAA game budgets
Catalog games will have a compounding year-over-year sales effect that ripples upwards to impact new fiscal year targets, as games like Monster Hunter World and the recent Resident Evil Remakes are still selling pretty well over time. It's possible that Capcom could raise prices of its games to $69.99 eventually and rely even more strongly on back-catalog titles to take up the brunt of game sales targets, however until worldwide economic conditions abate, a price hike could set Capcom back insofar as unit sales.
It's also worth mentioning that Capcom has streamlined its business enough so that it's maintained its profitability even during the current inflation-driven market. We could see Capcom continue its $59.99 pricing scheme for cross-gen and even current-gen titles in the foreseeable future to better position the company to achieve its high sales targets.
One final point: Digital is a big part of Capcom's game sales.
In FY22, digital delivery made up 89% of Capcom's game sales; Out of the 41.7 million games that Capcom sold in the year, 37.3 million of them were sold digitally. Catalog made up 70% of total game sales, or 29.3 million. This combination of digital and catalog titles could free Capcom up to maintain the $59.99 price tag, as digital significantly reduces costs by eliminating any need for physical worldwide game distribution.