Gamers largely disapprove of the new $70 price tag for AAA games on PlayStation 5, Xbox Series X/S, and now Nintendo platforms, however prices are unlikely to drop any time soon.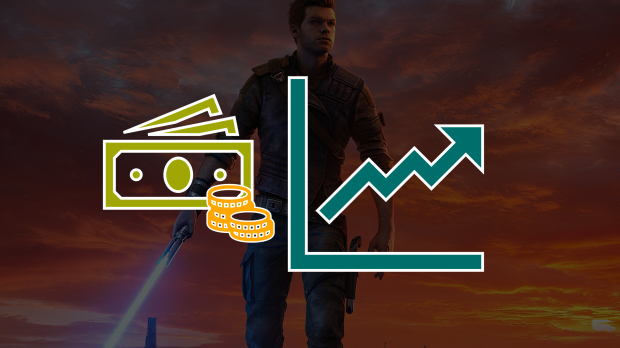 A bit ago, we published a report that found that consumers are buying less games but spending more on the titles that they do buy. This has led to a reduction in game units sold, but an increase in revenues generated from software. This also reflects the fundamental principle of supply vs demand economics: consumers buy fewer products when prices are increased.
Curious on how the price increase is affecting purchasing decisions, I decided to run a quick poll to see what consumers and gamers were willing to pay for AAA titles. Results of a Twitter survey with over 25,000 respondents from across the globe shows that the vast majority of respondents feel that $70 is too much for new video games, especially given the current economic climate that is forcing consumers to prioritize spending on necessities instead of entertainment.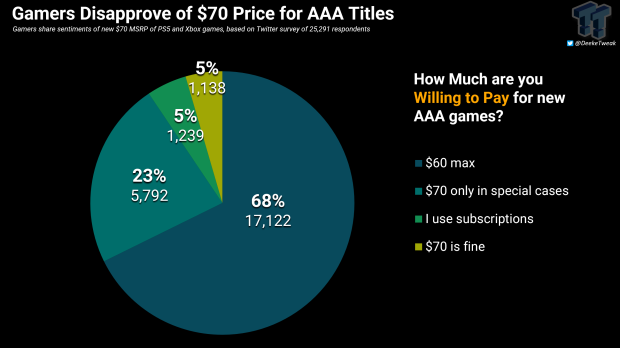 Out of the 25,291 total respondents, 68% of them, or 17,122 gamers, said that they were willing to pay a maximum of $60 for new AAA games.

23%, or 5,792 people, said that they were willing to pay $70, but only in special cases, as in marquee and higher-quality games such as PlayStation 5 exclusive titles.

About 5% of users, or 1,239 people, said they use subscriptions like Xbox Game Pass and PlayStation Plus to meet their gaming needs.

Another estimated 5% of respondents, or 1,138 people, said that $70 is an acceptable price tag for new AAA titles.
Respondents also shared their views on the current AAA video games market, with a significant portion of gamers expressing frustration in the lack of optimized games for current platforms. There were a number of complaints of titles shipping as broken games despite the $70 price tag, and strongly-worded discussions on what titles do and do not justify the new price hike.
The overall sentiment is that $70 is too much for new games, and that the new price tag should not apply as blanket MSRP for all PlayStation 5 and Xbox Series X/S titles. This is underlined by market trends from publishers and retails as many games that cost $70 at launch will drop to $60, $50, or even as low as $40 sometimes as early as weeks after launch.
Despite gamers' overall dissatisfaction with the price hike, platform-holders like Sony, Microsoft, Nintendo, and the majority of publishers are highly unlikely to drop game prices back to $60.
Why? Apart from rising costs of game development and need for increased wages for workers, some platform-holders are making more money from software than they ever have before.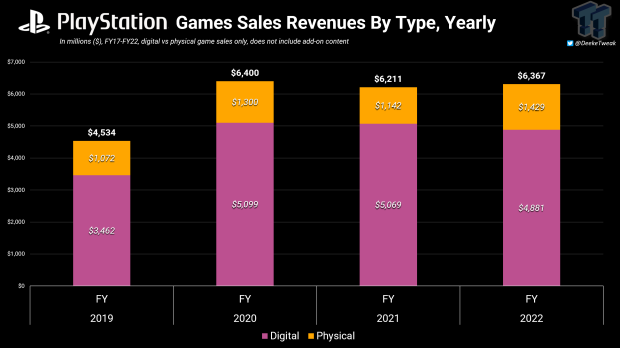 Sony, for instance, generated a record-breaking $6.367 billion from software on the PlayStation Store in Fiscal Year 2022. Sony managed to achieve this feat despite selling 39 million less games in FY22 than it did in FY21.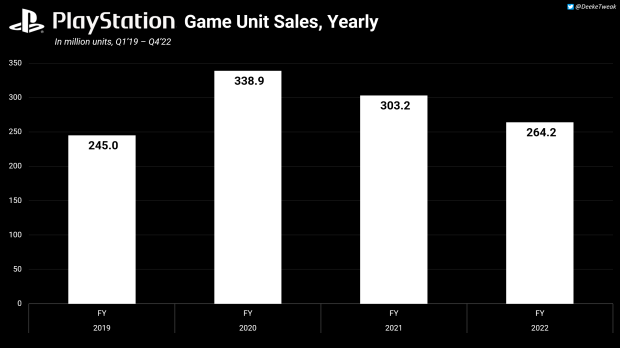 Furthermore, gamers and consumers now have many more options to access games content. Subscriptions offer a significant value-oriented alternative to $70 buy-to-play titles, and this value is by design; subscriptions offer temporary access to a wider pool of games, trading higher upfront prices for a more permanent license for lower-cost, timed-limited access to a selection of games that change over time.
Unfortunately, we cannot yet make similar determinations from other platform-holders or publishers until more data is revealed; more specifically, we need total game unit sales to weigh against game software revenues to make a similar assessment.
Interestingly enough, some publishers like Capcom have kept the $60 price tag for their PlayStation 5 games. Based on the current trends, this is likely because Capcom has prioritized unit sales volume and has achieved strong operating profit growth driven by its continued unit sales momentum and successful in-game monetization.