Over a decade after release, Counter-Strike: Global Offensive is still shattering player records on Steam.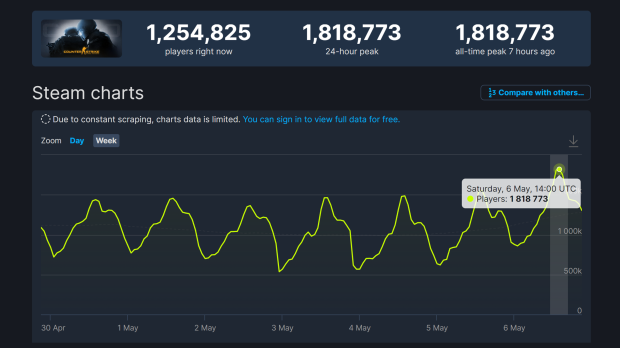 Counter-Strike just broke another peak player record with over 1.8 million gamers jumping in to play the game today. The record was set 7 hours ago and totals out to 1,818,773 million players throughout the day. Right now there are currently around 1.25 million players fragging it out in CS:GO on Steam.
Valve recently turned heads by announcing Counter-Strike 2, the next chapter in the shooter franchise that builds upon the massive success of the original. CS2 is built on Source 2 and features upgraded graphics, visuals, and effects, complete with high-performance servers that eliminate reliance on tick rates for moving, shooting, and throwing.
We have to wonder what will happen when both games are on the market at the same time, but Valve says that all CS:GO content will carry over to Counter-Strike 2, including unlocked skins and more:
Yes. All of your weapon finishes, stickers, and other CS:GO inventory items will be available to use in Counter-Strike 2.

Bring your entire CS:GO inventory with you to Counter-Strike 2. Not only will you keep every item you've collected over the years, but they'll all benefit from Source 2 lighting and materials.

In addition to supporting legacy models and finishes, all stock weapons have been upgraded with high-resolution models, and some weapon finishes take advantage of these new models.
CS2 is currently in testing phases on Steam and you can apply for access at this link here. The full game is due out Summer 2023.