Xbox's first-party title Redfall is available now on Xbox Series X|S and PC, and as per our report earlier today, the overall reception has been pretty negative. With performance on PC and Xbox being highlighted by several reviewers as a significant issue, GeForce RTX 40 Series owners might be in the clear thanks to DLSS 3.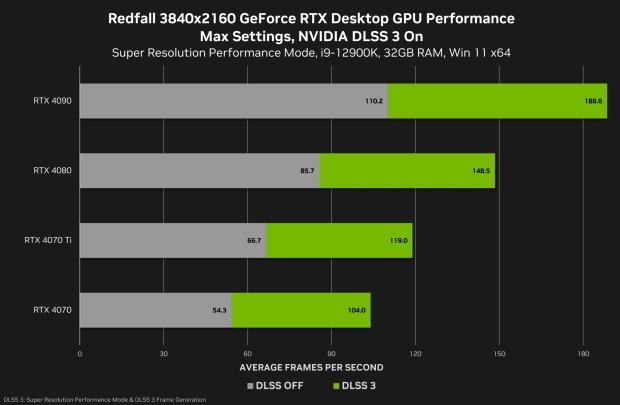 NVIDIA has just released GeForce Game Ready Driver 531.79, which adds support for Redfall, including DLSS Super Resolution, DLSS Frame Generation, and NVIDIA Reflex. According to NVIDIA's benchmarks, with the help of DLSS 3, Redfall performance across the entire GeForce RTX line-up hits over 100 frames-per-second in 4K. And with the aid of Reflex, latency is kept low.
The flagship GeForce RTX 4090 sees performance of up to 188 fps at 4K, an increase of over 71% compared to playing the game with DLSS disabled. The GeForce RTX 4080 managed up to 148 fps with DLSS 3, followed by the GeForce RTX 4070 Ti with up to 119 fps and the GeForce RTX 4070 with up to 104 fps.
Of course, this is not to say that the current state of Redfall is acceptable, and DLSS should never be used as a crutch to be able to play a game with decent performance. Here's hoping actual performance figures push these impressive numbers even higher, as tech like DLSS is always more impressive when paired with a stable PC release.
Elsewhere, GeForce Game Ready Driver 531.79 adds even more support for Diablo 4 - a game that has yet to be released but has now received support in multiple NVIDIA driver updates. It's one of the biggest PC releases of the year, and with the upcoming Diablo IV Server Slam for the weekend of May 12 to 14, PC players can play with DLSS 2 enabled. NVIDIA notes that when the full release arrives on June 6, it will do so with additional support for DLSS 3.
The latest GeForce driver also adds DLSS 2 support for Showgunners on PC, a cool new indie that looks like the classic '80s action film The Running Man crossed with XCOM, alongside upcoming titles Daydream: Forgotten Sorrow and the System Shock remake coming on May 30.