It hasn't been a great year for AAA game launches on PC, with several high-profile releases plagued with performance issues, glitches, and a general feeling that they have been pushed out the door weeks or months before they were ready.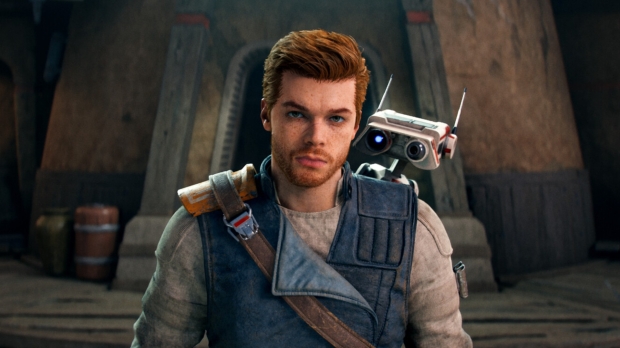 We're still getting substantial performance patches and fixes for Sony's The Last of Us Part I, a title we thought would be a slam-dunk easy-win for PlayStation games coming to PC. There are more examples, including Hogwarts Legacy and Forspoken, but last week's debut of the highly anticipated Star Wars Jedi: Survivor hit home the idea that gaming on PC in 2023 hasn't been pretty.
Most reviews covered the game's console versions, with the Metacritic score for the PlayStation version of Star Wars Jedi: Survivor currently sitting at a respectable 86. However, even there, the significant issues revolve around inconsistent performance, with frame rates dipping regularly. On PC, though, it's a different story. The Metacritic score sits at a notably lower 78 (it's worth noting that these reviews also include "all platforms" coverage), with the Steam community reviews currently sitting at "Mixed" due to immersion-breaking performance issues.
The game is heavily CPU limited, with reports indicating that the only way to get consistent performance is by using a new Ryzen 7800X3D processor. As per this technical breakdown and review by Digital Foundry, we see constant stuttering even with a GeForce RTX 4090 and its precompiled shader feature. Performance remains bottlenecked no matter the visual settings, with 60fps being unattainable. The outlet, known for delivering deep dives into technical performance, goes so far as to label it the worst AAA PC port of 2023 (so far). "Plagued with shader compilation stutter, traversal stutter, nonsensical CPU limitations, an impenetrable settings menu with little utility, a terrible FSR2 implementation, no DLSS or XeSS," the YouTube summary reads. "Virtually everything that could go wrong with a PC port is present and correct in this awful release. The tragedy is that the game looks great, but the quality of the code here is unacceptable.
There's even pesky DRM, which weirdly limits the number of machines on which the game can be played - making benchmarking a real pain for some.
As with AAA PC game launches in 2023, EA has issued a statement advising that fixes are coming, but the wording is a little strange in that it's an apology but not really.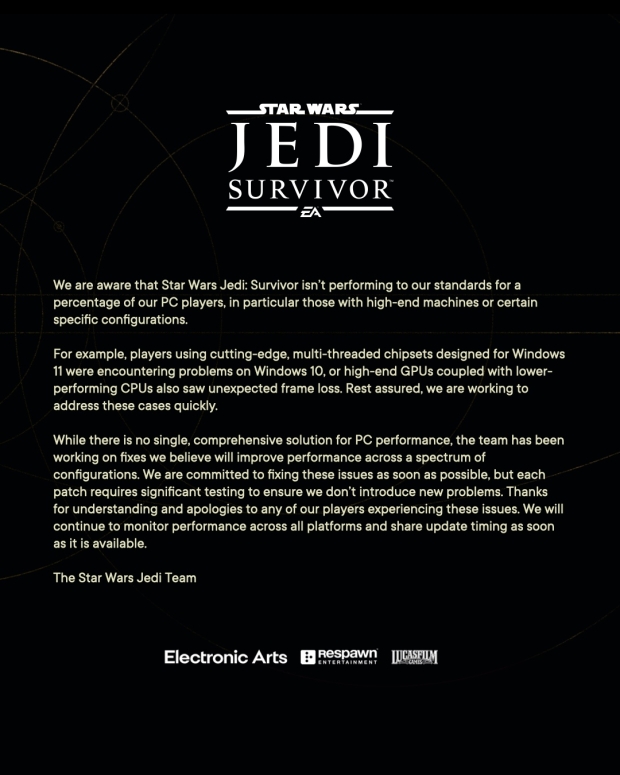 "We are aware that Star Wars Jedi: Survivor isn't performing to our standards for a percentage of our PC players, in particular those with high-end machines or certain specific configurations," the statement opens. "For example, players using cutting-edge, multi-threaded chipsets designed for Windows 11 were encountering problems on Windows 10, or high-end GPUs coupled with lower-performing CPUs also saw unexpected frame loss. Rest assured, we are working to address these cases quickly."
The statement hints that fixes could take time to appear as "each patch required significant testing," with no word on when to expect that first patch. Based on the feedback relating to the game's PC performance, it's a little weird that the statement reads a bit like EA has been caught off-guard regarding how the game performs.
Of course, with so many PC configurations out there, many are reporting that they haven't encountered issues - or performance that has negatively affected how they experience this latest Star Wars blockbuster. It is a shame because outside of these technical issues, feedback on the actual game has been chiefly positive - pointing to a more expansive and cinematic game than the original.