As is the case with upcoming GPU launches from NVIDIA, we've had a lot of information and details for the upcoming GeForce RTX 4060 Ti appear from multiple sources. The latest (via Videocardz.com) reaffirms a late May launch and release for the mid-range GeForce RTX 40 Series graphics card, with an embargoed NVIDIA GeForce RTX 4060 Series document outlining the current plans and communication being sent out to its partners.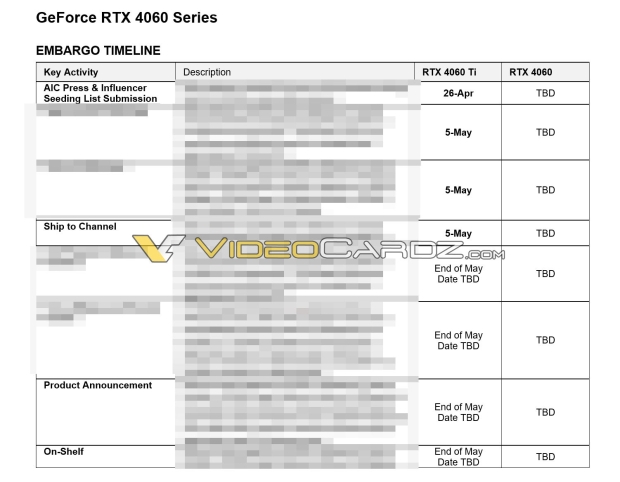 The document notes that cards will ship to partners on May 5 with the "Product Announcement" and "On-Shelf" listed as "End of May" with a specific date still being finalized. Interestingly the same document simply puts "TBD" under the column for the baseline GeForce RTX 4060, which would put the launch of that affordable mainstream option as no sooner than June 2023.
Another interesting takeaway from the document is that the board for the GeForce RTX 4060 Ti is listed as the PG190, the same as the GeForce RTX 3060 Ti. This means that partners can utilize the same coolers, potentially leading to a budget-conscious price point for the first time this generation.
The late May launch window also lines up with rumors that AMD is launching its mainstream Radeon RX 7600 at Computex (set to kick off in late May), so we could be in for an actual head-to-head in terms of pricing and performance.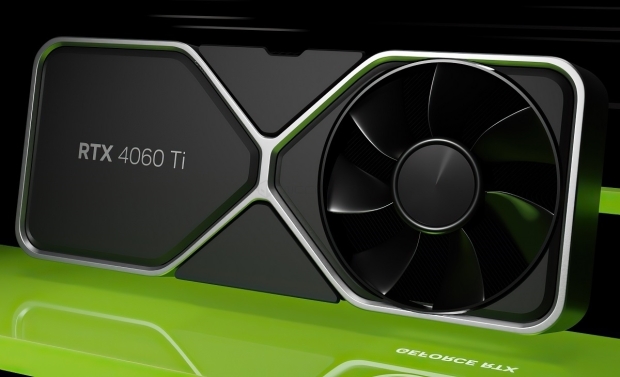 Specs for the NVIDIA GeForce RTX 4060 Ti are "mainstream" in that the AD106-350-A1 GPU is set to feature 4352 CUDA cores, 8GB of GDDR6 memory running at 18 Gbps across a 128-bit bus. Compared to its predecessor, the RTX 3060 Ti, the 32 MB of L2 Cache presents a massive increase alongside the lower power rating of 160W. The Radeon RX 7600 is also rumored to feature 8GB of VRAM, so it looks like these two GPUs will go head-to-head when they launch.
As for the RTX 4060 Ti's performance, early speculation and number crunching point to RTX 3070 Ti-like numbers, which would deliver impressive 1080p and even 1440p (barring memory limitations) gaming.