AMD's Zen 4 processors have recently been under the spotlight because of reported cases of the CPUs dying due to overheating, but there's good news in that a fix has been implemented, and BIOS updates carrying it should soon be available.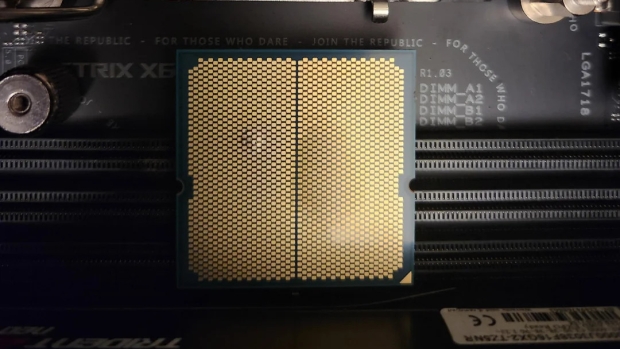 The burnout issue was related to SoC voltages being cranked up above safe limits, a theory previously proposed by multiple sources in the industry that turned out to be correct.
AMD had already issued a statement on this matter, but a second message clarifies the exact cause and outlines the fix.
As Anandtech reports, AMD's second statement reads as follows:
"We have root caused the issue and have already distributed a new AGESA that puts measures in place on certain power rails on AM5 motherboards to prevent the CPU from operating beyond its specification limits, including a cap on SOC voltage at 1.3V.
"None of these changes affect the ability of our Ryzen 7000 Series processors to overclock memory using EXPO or XMP kits or boost performance using PBO technology."
In short, you can still use EXPO memory overclocking profiles (to juice up system RAM) with your PC, but there will obviously be safety limits in place to prevent voltages from exceeding 1.3V. (Previous chatter had suggested 1.35V might be okay, but it seems not, though you'd expect AMD to play it very safe here, of course).
With motherboard makers having received the new firmware, AMD says we can expect new BIOS releases for AM5 boards to filter out over the next few days. Once you've grabbed the necessary update, any danger of your Ryzen 7000 CPU running too hot should be vanquished.
This issue has been reported as affecting both vanilla Ryzen 7000 models, as well as newer X3D chips with 3D V-Cache (there have been more incidents witnessed with the latter, mind). While AMD doesn't mention any specific models, we can assume that a sweeping statement about the AM5 platform encompasses all existing Zen 4 desktop processors.
AMD says that owners of a CPU that has suffered a burnout should contact its customer support, which is prioritizing these cases for resolution, as you'd hope.
What's of concern here is that potential damage could have been done under the hood that may not have killed the CPU, but might affect its longevity over the years if you're unlucky.