AMD Ryzen 7000 processors have been burning out - literally dying, and in some cases, there are reports of them damaging the motherboard they're in, too - and a reason why this is happening has now been put forward.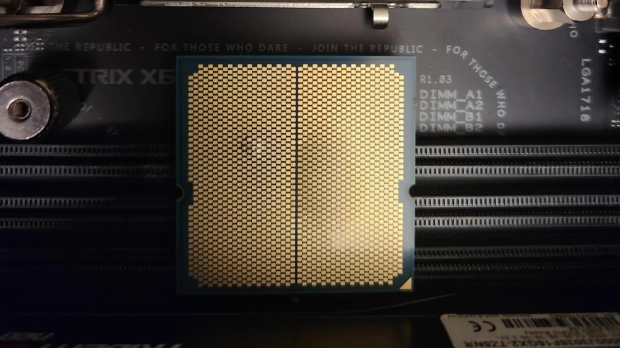 A report from Tom's Hardware informs us that the root cause is SoC voltages being jacked up to unsafe levels in affected CPUs. That's according to multiple industry sources who wish to stay anonymous for the time being.
Naturally, we must remain cautious around this as it's not an official declaration of the problem from AMD, but those sources are all saying the same thing, and are backed up by a statement from motherboard maker ASUS (made to expert overclocker Der8auer).
The overheating is seemingly happening due to either the user ramping up SoC voltages themselves (which can be done for better results when overclocking system RAM), or when using EXPO memory overclocking profiles (doing the same thing - upping the voltage).
This is why there was some confusion with the initial reports, when folks believed the burnouts were related to overclocking the actual CPU, but far from everyone affected had done that. Those other folks, then, were likely to have been running overclocked RAM, not the CPU (that's the case for the original report we saw on Reddit, in fact).
While both vanilla Ryzen 7000 and X3D (3D V-Cache) Zen 4 models can be hit by this problem, the latter are more likely to suffer at its hands. Perhaps because they have a harder time handling the extra heat, but as Tom's points out, it's feasible that the cause with 7000X3D models might be different - we still don't know enough at this point.
As to what motherboards are affected, earlier this week, the existing reports seemed confined to ASUS and MSI boards, but now it's clear this can potentially be a problem for any AM5 motherboard. That includes ASUS and MSI, of course, and ASRock, Biostar, and GIGABYTE.
AMD is currently working on a fix, we're told - likely to limit SoC voltages in all scenarios, in theory, to safe levels - and that should hopefully be here pretty swiftly given the gravity of the issue here.
Even if processors haven't actually burnt out, those running overclocked memory might be overstressing their Ryzen CPU on a daily basis, perhaps to a damaging degree in terms of its potential longevity. Really, this is a pretty nasty situation if what's being reported is the truth behind the matter.
Doubtless we'll find out soon enough, but for those who are running RAM overclocks, we'd advise you to tone them down - or indeed revert to stock speeds - at least until we hear more about what's going on here. Better safe than sorry, as they say.
Tom's advises that the safe limit for a SoC voltage is 1.25V, but that some reports suggest 1.35V is okay - take that with a whole heap of salt, though, as you're very much operating at your own risk here.
If you're pushing to 1.4V or further, that'll supposedly increase the chances of a CPU burnout occuring - not that this will necessarily happen. But as already mentioned, the chip running hotter than it should be might mean there's longer-term damage going on under the hood that you may not know about.