After leaking the other day, today comes the official word from AMD, unveiling its most powerful AMD Radeon PRO Graphics Cards for workstations and professionals built on the new RDNA 3 architecture.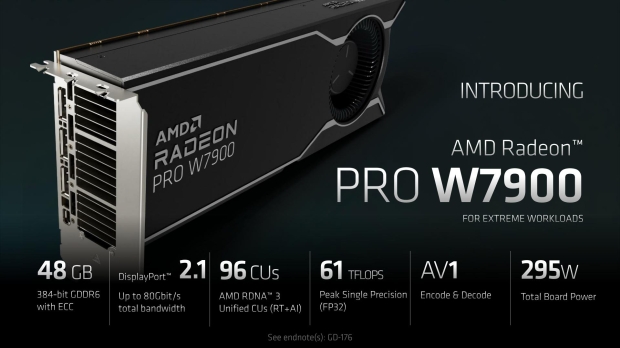 The AMD Radeon PRO W7000 Series, covering the AMD Radeon PRO W7900 and AMD Radeon PRO W7800 graphics cards, are the first professional GPUs built using AMD's new chiplet design. And like the flagship consumer-focused AMD Radeon RX 7900 XTX, they also support the latest DisplayPort 2.1 standard - which has yet to be adopted by NVIDIA.
AMD promises significantly higher performance as the new workstation Radeon PRO graphics cards than the previous generation. On that front, the flagship AMD Radeon PRO W7900 features 96 Compute Units with 61 TFLOPS (FP32) performance that can deliver a 1.5X higher geoman performance on the SPECviewperf 2020 benchmark. It also sports 48GB of GDDR6 memory on a 384-bit interface with up to 864 GB/s of memory bandwidth.
The AMD Radeon PRO W7800 is no slouch regarding performance, as it features 70 Compute Units with 45 TFLOPS (FP32) of peak single precision performance and 32GB of GDDR6 memory on a 256-bit bus with up to 576 GB/s of memory bandwidth.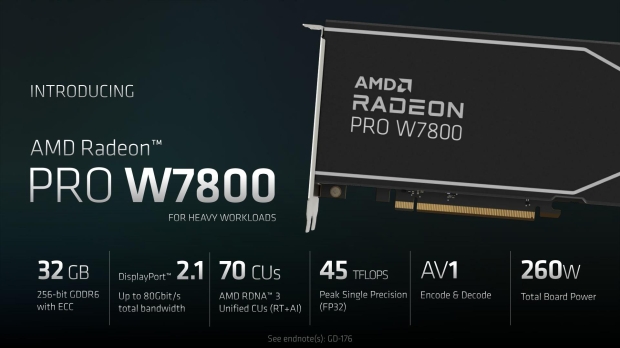 "The new AMD Radeon PRO W7000 Series are the most powerful graphics cards AMD has built to date, providing professionals, creators, and artists with exceptional performance and value to drive the most demanding professional design and creative applications," said Scott Herkelman, senior vice president and general manager, Graphics Business Unit at AMD.
"The AMD Radeon PRO W7900 and W7800 Series graphics cards are built to deliver incredible performance and reliability in professional applications while providing color-critical accuracy and an incredible visual experience. The AMD Radeon PRO W7000 Series graphics cards give professionals the ability to tackle larger projects, render faster and create more complex models loaded with more pixels, more polygons, and more textures."
Compared to the new workstation GPUs from NVIDIA, these new AMD cards will be cheaper (half the cost), with the AMD Radeon PRO W7900 featuring a SEP of USD 3,999 and the AMD Radeon PRO W7800 featuring a SEP of USD 2,499. Availability for both graphics cards is expected sometime in Q2 2023.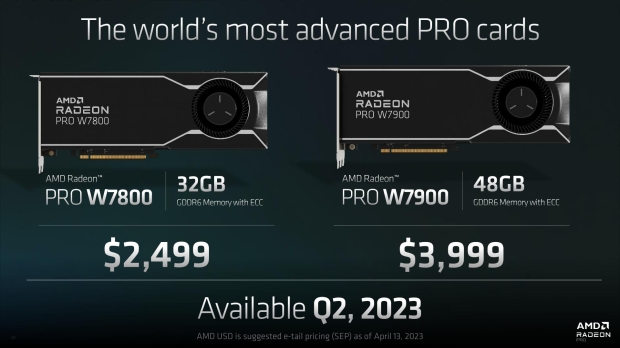 Here's a look at some of the key features.
AMD RDNA 3 Architecture - New compute units share resources between rendering, AI, and raytracing to make the most effective use of each transistor, offering approximately 50% more raytracing performance per compute unit than the previous generation3. AMD RDNA 3 architecture also features optimizations for AEC, D&M, and M&E workflows for rendering, video editing, and multitasking.

Advanced Chiplet Design - The world's first workstation GPUs with a chiplet design provide higher performance and greater efficiency than the previous generation. It includes the new 5nm Graphics Compute Die (GCD) that provides the core GPU functionality. It also includes six new 6nm Memory Cache Die (MCD), each with second-generation AMD Infinity Cache technology.

Dedicated AI Acceleration and Second-Generation Raytracing - New AI instructions and increased AI throughput deliver over 2X more performance than the previous AMD RDNA 2 architecture4, while second-generation raytracing technology delivers significantly higher performance than the previous generation5.

Up To 48 GDDR6 Memory - Allows professionals and creators to work with the largest 3D models and environments, edit and layer complex timelines using the latest digital cinema cameras formats and render photorealistic, raytraced images with unparalleled quality. Professional applications that can take advantage of the larger framebuffer include Adobe Premiere Pro & After Effects, Autodesk 3ds Max & Maya, Blender, Boris FX Sapphire, Dassault Systèmes SOLIDWORKS Visualize, DaVinci Resolve, Lumion, Maxon Redshift, and many more.

AMD Radiance Display Engine with DisplayPort 2.1 - Supports the highest resolutions and over 68 billion colors, and offers support for higher refresh rate displays compared to AMD RDNA 2 architecture and current competitive offerings. Display outputs support next-generation displays and multi-monitor configuration options, creating an ultra-immersive visual environment.

AV1 Encode/Decode - Dual encode/decode media engines unlock new multi-media experiences with full AV1 encode/decode support designed for high resolutions, wide color gamut, and high-dynamic range enhancements.

Optimized Driver Performance - All AMD Radeon PRO workstation graphics are supported by AMD Software: PRO Edition, which provides a modern and intuitive user interface. Radeon PRO Image Boost renders visuals higher than a display's native resolution to optimize image quality and resolution, while Radeon PRO Viewport Boost dynamically adjusts viewport resolution, boosting framerates and navigation performance in select applications.