Microsoft's new prototype Xbox micro-console is still on Phil Spencer's shelf...could a reveal happen soon?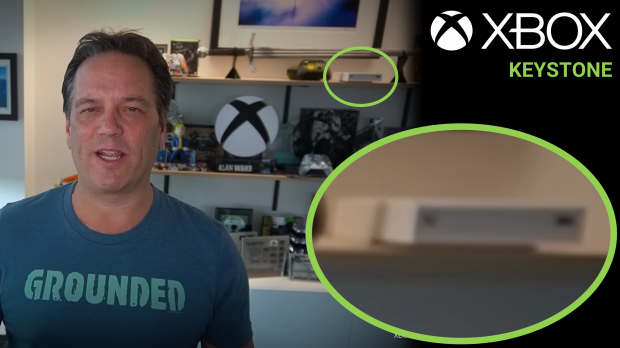 Every time Phil Spencer goes on camera there's an opportunity to learn about Xbox's future plans (this is true in more ways than one). Not only does Spencer talk about Xbox when he's onscreen, but It's a tradition that Spencer offers some clues with the items on his famous shelf. Scanning the shelf is a fun little scavenger hunt that leads to lots of engagement and discussion in the Xbox community. Sometimes the innocuous items are just that--small collectibles, knick-knacks, etc. But sometimes we get a glimpse of something very interesting...like unreleased Xbox hardware prototypes.
In a short clip about Xbox Game Pass PC expanding to more regions, a strange-looking mini Xbox can be seen on Spencer's shelf. This tiny Xbox is called Keystone, and it actually evolved from 2016's experimental Project Hobart.
This is actually the second time that Keystone has been spotted on Spencer's shelf. The first time was back in October 2022.
So what is Keystone? To put it simply, it's basically a micro-Xbox in both form and performance. Keystone is meant to be a low-cost alternative to an Xbox Series S/X, but the trade off is that the device may not be able to play games natively and could be reserved for cloud gaming.
In a very real sense, Keystone could be the Xbox version of NVIDIA's Shield TV set-top box.
Microsoft has yet to announce the device, but sources tell Windows Central's Jez Corden that Microsoft was targeting a $99 price point for Keystone including a controller.