Looking for a dock for your Steam Deck that does it all and then some? Well, the new 6-in-1 USB-C Docking Station for Steam Deck from Syntech might be the answer, as it's packed with features and is currently available with a nice 10% discount over at Amazon, which goes up to 50% with a coupon (link at the end of the article).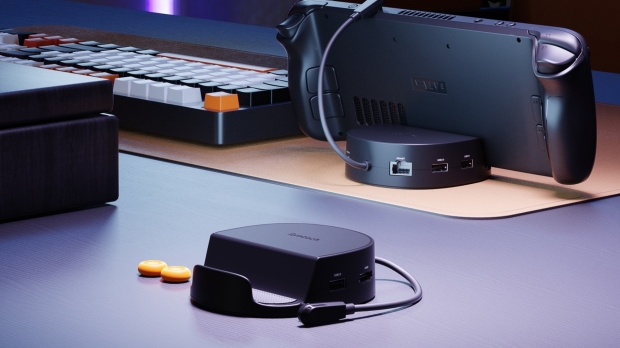 Syntech's Docking Station for the Steam Deck offers 4K@60Hz output over HDMI 2.0, a Gigabit Ethernet input for fast transfer, three USB-A 3.0 outputs, and USB-C 3.0 for full-speed charging. So yeah, it's stacked.
The dock also sports a minimal curved look that looks stylish and sleek in the product shots provided by Syntech, making it one of the best-looking Steam Deck docks currently available. The USB-C charging also means that it can double as a nice little charging stand for the Nintendo Switch or a smartphone.
The dock is also high-quality, with smart design features like an anti-slip silicon pad, an anti-slip finish on the stand portion, and dimensions preventing blocking the Steam Deck's vents. It's also built to last with "ultra-high temperature laminated PCB and tough ABS+PC materials."
As a nice little bonus, Syntech also provides Anti-Slip thumb grips for the Steam Deck that looks funky in yellow. With multiple ports for additional peripherals and controllers and full support for all HDMI 2.0 TVs and monitors, the Syntech 6-in-1 USB-C Docking Station for Steam Deck is worth checking out. It's also portable enough to take on the go.