The strange phenomenon was captured on Monday, March 27, by photographer Valter Binotto, who managed to snap an incredible shot of the red ring that only appeared for a few milliseconds.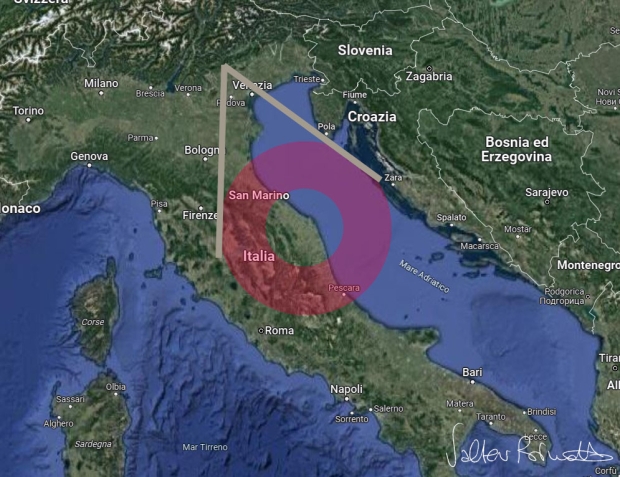 Binotto was stationed in the foothills of the Italian Alps when he snapped the above photograph of the phenomenon looming over what appears to be the small Italian town located in northern Italy called Possagno. However, the accurate location of the red ring wasn't above Possagno. Binotto's location when the photograph was taken has caused the image to create a forced perspective, a filming/photography technique that is used to create the visual illusion that objects appear larger, smaller, farther, or closer than they really are.
This technique was abundantly used through Peter Jackson's Lord of the Rings movies to make characters such as Gimli the Dwarf and all the Hobbits appear smaller than they really are. As for the red ring, Spaceweather reports that it's called an ELVE, or an Emissions of Light and Very Low-Frequency Perturbations due to Electromagnetic Pulse Sources.
Less specifically, this light phenomenon is a type of sprite that was discovered by cameras located on the space shuttle in 1990. Notably, the publication reports that Binotto may have captured the best photograph of a sprite ever, as the phenomenon is extremely rare.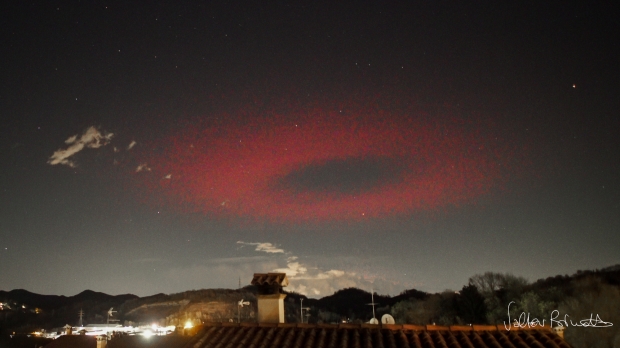 So, where do sprites come from, and why is this one red? Sprites are blue or red and are created by lightning storm intensification, which electrifies the atmosphere, creating an electromagnetic pulse (EMP) when a lightning strike hits Earth's ionosphere located between 50 and 400 miles above the surface of the planet.
The result is nitrogen atoms becoming energized, which produce the brief appearance of the color red and mark the location where the EMP collided with Earth's ionosphere. Notably, the lightning bolt that created this red ring above Italy was 10 times stronger than a typical lightning bolt, which carries anywhere between 10 to 30 kilo-amperes of current.
According to Binotto, the red ring was created by a large thunderstorm that was located near Ancona, a city that's located around 174 miles from Possangno, and the red ring had a diameter of about 224 miles. Speaking to Spaceweather.com, the photographer said that he has been shooting ELVEs since 2019, and this observation of the red ring over Italy has been the largest structure he has ever seen.
Furthermore, this isn't the first time sprites have been spotted by photographers, as it was only in October that another appearance was captured. The phenomenon has even attracted the attention of NASA, which has called upon citizens to send in any images of sprites so researchers can better understand them.