YouTube channel SkatterBencher, with ASUS ROG Crosshair X670E Hero motherboard and EK custom loop water cooling, has managed to push the new AMD Ryzen 7 7800X3D CPU to 5.4 GHz with some clever overclocking.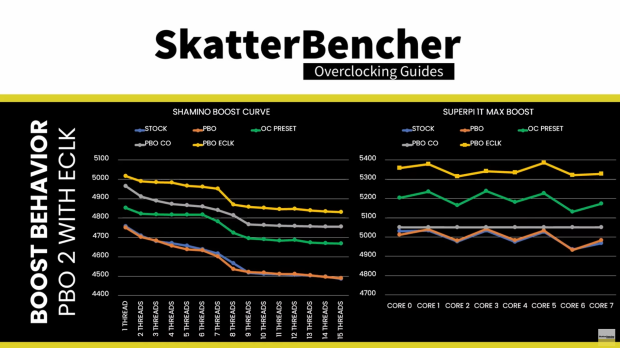 The Ryzen 7000X3D series, with 3D V-Cache technology, are CPUs not designed for overclocking. AMD has manually disabled manual overclocking on the chip outside of a few exceptions-Precision Boost Overdrive (PBO) and AMD's Curve Optimizer.
So if you're wondering how SkatterBencher managed to push the single-core clock speeds to 5.4 GHz and 4.85 GHz on all eight cores, it was a somewhat complicated process that took advantage of the features of the ASUS motherboard - namely two external clock generators.
With the external clock generator, Precision Boost Overdrive, and AMD's Curve Optimizer, he can obtain impressive overclocking results while avoiding power limitations. The whole process is detailed extensively in the video, where SkatterBencher goes through each step, clearly explaining the whys and hows.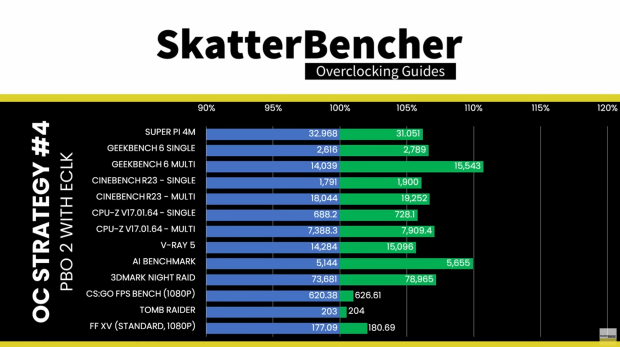 The result is an overall 7.7% boost to frequencies and a 10% boost to single-core clocks, which were all stable when running various productivity benchmarks. Of course, these results are specific to the quality of the exact CPU tested, the features of the ASUS motherboard used, and the water cooling.
SkatterBench notes that the Ryzen 7800X3D is very sensitive to voltage, so manual overclocking is disabled by default. Even slight increases can lead to thermal issues that could degrade the CPU.
With the AMD Ryzen 7 7800X3D delivering excellent gaming performance - as highlighted in our full review - the need for overclocking isn't there. So this little exercise is more fascinating than practical, but it's still a remarkable effort to push the impressive Ryzen 7800 X3D beyond its default specs.