If you've just bought an AMD Ryzen 9 7950X3D or 7900X3D processor, then there's a quickstart guide on getting up and running with these new X3D chips you might be interested to see.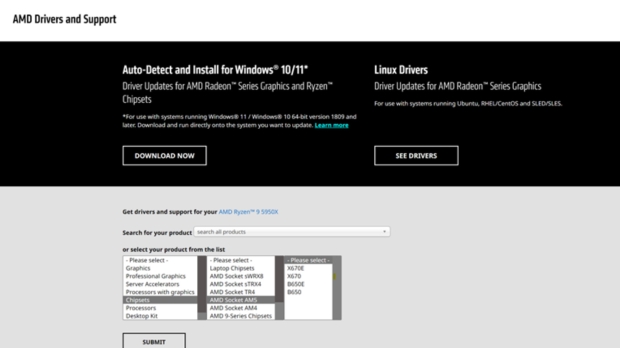 Basically, this is a bunch of helpful tips AMD has put together in order to facilitate a smooth installation of your shiny new 3D V-Cache-toting CPU, and to ensure it's working to the best of its abilities.
The gist of the preparation work is to make sure you have an up-to-date version of Windows 10 or 11, meaning in the case of Windows 11 you want version 21H2 build 22000.1455 or better, or with Windows 10 version 1903 build 19044.2546 or newer.
You also need to ensure that your motherboard is on the latest BIOS version (which you can get from the manufacturer's website - it might be worth checking that the most recent release definitely supports the 7950X3D or 7900X3D). And finally, you'll want to be running AMD's Chipset Driver 5.02.16.347.
The link showing where to get the latter is provided in AMD's full quickstart guide which you can peruse here.
It's also worth noting that AMD recommends a fresh installation of Windows ideally, although it's a bit of an ask to push folks to install the OS anew in all honesty. Still, the advice is there if you want to follow it to the letter.
Once you have the new X3D CPU up and running in your PC, AMD also runs over some Windows settings that you need to make sure are configured for optimal operation.
That includes turning on Game Mode, and ensuring that the Xbox Game Bar is installed and fully updated (it should be version 5.823.1271.0, as of the time of writing). Then you're all set, at least for the basics, anyway.
Of course, there's quite a bit more tweaking you can go into with these processors. Unlike the last-gen 5800X3D, these new Ryzen 9 X3D CPUs can be pepped up using Precision Boost Overdrive (PBO), although manually overclocking (actual juicing up the voltage) still isn't an option.
Furthermore, there are additional tweaking intricacies with these Ryzen 9 models in terms of them having two chiplets (rather than just being a single chip). In case you weren't aware, one chiplet (or CCD) has the 3D V-Cache on top, and the other doesn't, but instead is able to run with a faster boost speed.
The former will almost certainly be better for most games, although the chiplet with the higher max boost clock could work best for a minority of titles. Normally, chiplet usage is automatically managed with the most appropriate CCD recruited to the task at hand. However, if you find your system isn't performing optimally with that chosen CCD, it's possible to switch to the other chiplet using the BIOS manually.
In short, there's plenty to get your head around with these new CPUs, but AMD's freshly published guide is a useful place to start.