AMD's top-end Ryzen 9 processors with 3D V-Cache on-board will be something special for gamers, and the company has been busy elaborating on the reasons why.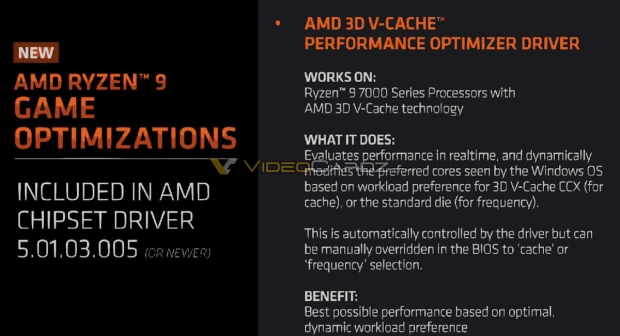 These X3D chips, namely the Ryzen 9 7950X3D and 7900X3D, have two separate chiplets (known as CCDs), and in a fresh info dump, AMD has made it clear that the fastest chiplet for any particular game will be used.
For the uninitiated, the difference between the two chiplets is that one has the 3D V-Cache, and the other doesn't - although that second (non-X3D) chiplet can run at a faster boost speed as a result.
For some games, that higher boost could be more beneficial, but for others, the cache will be, and AMD's driver (in conjunction with Windows) will automatically work out which is best and use that.
However, as had been previously rumored, the user can override that decision made by the driver, and set the Ryzen CPU to either 'cache' or 'frequency' (faster boost) manually in the BIOS. That's good to hear, as it's important to have the ability to pick and choose if the driver is going awry with any particular game or workload.
AMD also clarifies that a game will stick to a single chiplet for optimal performance (reduced latency), but if multitasking demands require more threads than on that CCD, the second chiplet's muscle will automatically be brought into play, just as you'd expect. Also as you'd expect, AMD notes that the cache-bearing chiplet will almost always be the most performant (that may not be the case with traditional apps, of course).
All this comes from AMD slides unearthed by VideoCardz which explain that all these optimizations come from two different drivers within the main AMD chipset driver. Those would be the 3D V-Cache Performance Optimizer Driver and PPM Provisioning File Driver.
There's a lot of interest in how these second-gen 3D V-Cache models will perform, particularly as they can be overclocked (at least via Precision Boost Overdrive, even if the 7000X3D chips aren't able to be ramped up by manually cranking the voltage).
In short, big things are expected by gamers, but of course these chips won't come cheap when they launch tomorrow. (US$699 will be the MSRP for the flagship, but when did a top-flight CPU not have a weighty price tag attached?)
The 5800X3D was a very popular model with gamers, and the 7800X3D will take the baton as a more affordable 3D V-Cache option soon enough - but it doesn't come out until April. Furthermore, it won't need any fancy optimization processes between two chiplets, as it only has a single CCD (being an 8-core CPU). As we concluded in our freshly published review of the Ryzen 9 7950X3D, it's likely worth waiting to find out what the 7800X3D can do compared to this flagship in overall value terms.