Ford has filed for a patent on a new type of system that is designed to cause drivers "discomfort" if they happen to miss consecutive car repayments.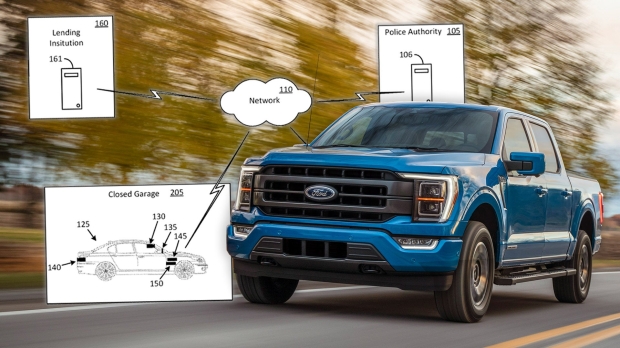 The car manufacturer filed for the patent back in August 2021, but it only became public last week when it was published online. The Drive reports that the patent includes technology that would revoke key features of the vehicle in the event of car repayments being missed by the buyer. Features that would be taken away incrementally would be air conditioning, GPS, and even the radio.
Furthermore, the patent describes a new system called the "repossession system computer", which will serve as the brain for carrying out all these discomforts. The patent states that this new computer would begin with minor annoyances to the driver, such as removing air conditioning, cruise control, or the radio. Then if warnings of missed payments are continued to be ignored, the system could initiate an "incessant and unpleasant sound" whenever the driver is around.
It doesn't stop there, though. The patent goes on to describe other capabilities of the new system, such as its ability even to lock out vehicle owners if the missing payments are extensively continued. Additionally, the patent outlines caveats to the lockout scenario. One was the vehicle only locking the owner out on the weekend, so they could still continue to work during the week and make the overdue repayments.
Another example of a lockout scenario is the vehicle creating what the patent describes as a "geofence" around the vehicle owner's home. In this scenario, the vehicle would only be operational within those parameters. The patent also states the system could limit vehicle owners to driving on certain days or even times.
If all of these annoyances are endured, and a large number of repayments are still outstanding, the system may decide to take extreme action. An example of this is autonomously driving itself to a location that is "convenient for a tow truck to tow the vehicle." Another example, and this is perhaps the most shocking, is the patent states that the repossession system computer could communicate with the lending institution computer to determine an approximate market value for the vehicle.
Once that number is obtained, the vehicle's computer compares the cost of repossessing the car versus scraping it. If the cost is more to repossess the car, the computer will autonomously drive the computer to the scrapyard.
If you are interested in reading more about this story, check out this link here.
In other news, a former Google engineer has sounded the alarm on artificial intelligence becoming sentient and this time around the engineer isn't pointing to Google's AI, but Microsoft's. The former Google engineer is Blake Lemonie that previously claimed that Google's LaMDA chatbot had gained sentience after asking it a serious of questions. If you are interested in reading more about this story, check out the link below.