During a recent visit to MSI here in Taiwan, we learnt of an interesting and new technology which they are working on with another Taiwanese company called Polo-Tech. It all falls under their ECO friendly design program.
It is still very much a work in progress but from the working concept design we saw in action at the MSI HQ, it is probably not far off from becoming a reality - we hope so too. What are we talking about here anyway? Since power saving is such a hotly discussed topic, MSI has employed the Stirling Engine Theory to power a cooling fan without the need of conventional electricity.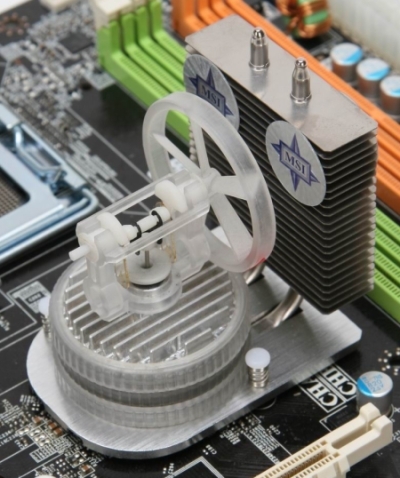 Heat is transferred from the motherboard northbridge chipset and through the Stirling Engine Theory it is able to spin the cooling fan and cool down the heatsink. MSI commented that they would probably end up adding the world's first powerless air cooler to an Nvidia motherboard, which everyone found rather amusing.
MSI sent us over a demonstration video of how the theory works in practice and I uploaded it to YouTube.
Good on you MSI - we'll save this planet one PC at a time if we must!