It looks like Intel is all-in on making its Intel Arc Graphics line-up of GPUs a viable mainstream alternative for 2023, and the latest Game On Driver adds support for impending PC game releases like Atomic Heart, Company of Heroes 3, Like a Dragon: Ishin!, The Settlers: New Allies, and Wild Hearts. Regarding day-one support for games and the pace of new driver releases for 2023, Intel is now ahead of both NVIDIA and AMD.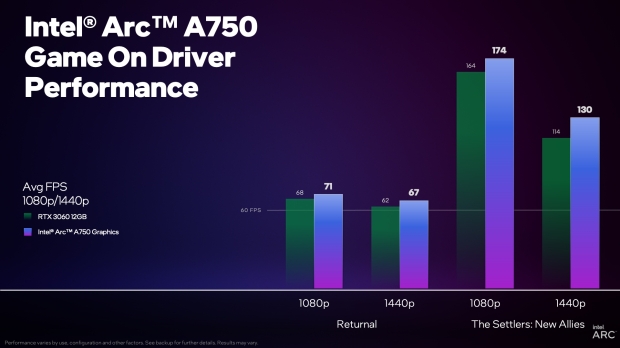 And as part of the new driver update Intel has released a detailed blog post with info on some of the performance gamers can expect with its primary offering - the Intel Arc A750 GPU. For Sony's first-party release Returnal, which supports Intel's own AI-based upscaling tech XeSS, the Intel Arc A750 is said to deliver 67fps performance at 1440p using the High detail setting, for Ubisoft's The Settlers: New Allies the Intel Arc A750 can hit 174 fps at 1080p with high settings and 130fps at 1440p with high settings.
These results come from a high-end rig featuring an Intel Core i9-13900K processor and DDR5 memory, so results will vary on lower-spec systems. Still, it hasn't stopped Intel from benchmarking the same games using the same system with a GeForce RTX 3060 and presenting the Arc A750 as delivering better performance.
Of course, official support for these games is still to appear in upcoming drivers from NVIDIA and AMD - so these figures could change. Still, it's great to see Intel picking up the pace of its driver updates, especially when its most recent update introduced massive across-the-board performance gains.