The Radeon RX 7600S mobile GPU for laptops is the first RDNA 3-based chip from AMD, and it's been tested in the new ASUS TUF Gaming A16. The Radeon RX 7600S is a budget-friendly mainstream offering from AMD based on the Navi 33 architecture, and it features 1,792 shaders and clock speeds of up to 1,865 MHz, and an operating power range of 50W to 75W.
The laptop in question also has a more powerful Radeon RX 7700S. Still, this lower-end version has been put to the test by Notebookcheck, where performance looks to be on par with NVIDIA's GeForce RTX 3060 laptop GPU. Looking at in-game performance with Strange Brigade, the 163-fps average is on par with results for the RTX 3060, though it beats the NVIDIA GPU in games like The Witcher 3 and loses out in titles like GTA V and Dota 2 by a decent margin.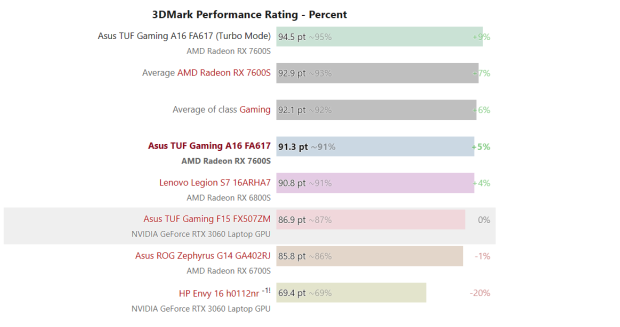 Regarding synthetic benchmarks like 3DMark, it outperforms the RTX 3060 by around 5%.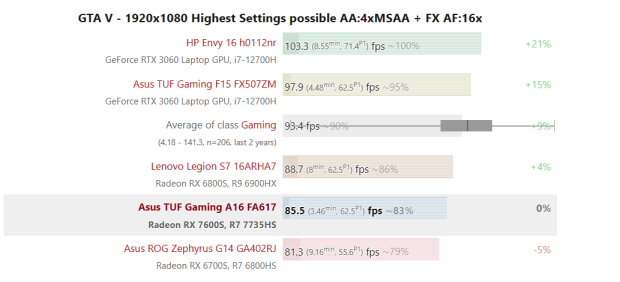 The results are interesting, but with laptop configurations and benchmarks varying wildly according to what CPU is inside and how much power is being allocated to the GPU - it's never really a 1-to-1 comparison. What is impressive is that it seems to perform roughly the same compared to the previous generation's AMD Radeon RX 6800S when it comes to in-game performance.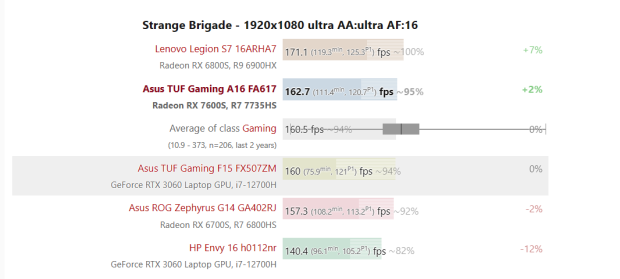 The RTX 3060 comparisons are meaningful because that's currently one of the most popular GPUs. If the price is right, then AMD could present an affordable alternative to NVIDIA. And with the laptop GeForce RTX 4060 set to arrive soon, it's looking like there will be a place for cheaper high-performance gaming laptops as NVIDIA's impressive GeForce RTX 40 Series has seen prices increase the board.