The team of astronomers from around the world have honed their efforts on one exoplanet in particular, Wolf 1069 b.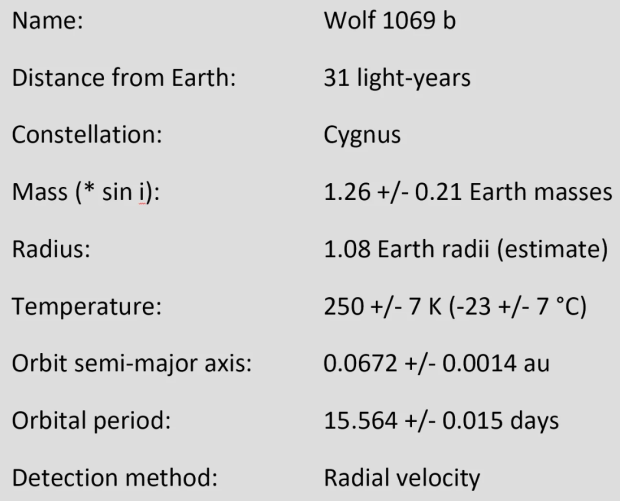 In a new paper published in Astronomy and Astrophysics by a team of fifty international astronomers details Wolf 1069, an exoplanet that is only 31 light-years from Earth and is a very similar size to our planet. The astronomers found that Wolf 1069 is about 1.26 the mass of Earth and 1.08 the size. Additionally, researchers found the exoplanet orbits its host red dwarf star much faster than Earth orbits the Sun, with Wolf 1069 only taking 15.6 days to complete one full rotation.
Since the exoplanet is orbiting a red dwarf star, it receives approximately 65% of the solar radiance that Earth receives. Red dwarf stars are much smaller and cooler than the sun, and because of that Wolf 1069's surface temperatures are also much cooler despite its close proximity. According to the paper, the exoplanet's surface temperatures range between -139.27 degrees Fahrenheit (-95.15 Celsius) and 55.13 degrees Fahrenheit (12.85 C), with an average surface temperature of -40.25 F (-40.14 C).
While you are probably thinking those temperatures are impossible for humans to survive, Wolf 1069 has a special feature, it's tidal locked to its star. Tidal locking mean the planet doesn't have a day/night cycle like Earth as one side is always facing towards its host star and the other is always in darkness. researchers hope that the day-side sports habitable conditions.
"When we analyzed the data of the star Wolf 1069, we discovered a clear, low-amplitude signal of what appears to be a planet of roughly Earth mass. It orbits the star within 15.6 days at a distance equivalent to one-15th of the separation between the Earth and the sun," said Diana Kossakowski, an astronomer at the Max Planck Institute for Astronomy in Germany and lead author on the new research.