GPU manufacturers use ECC (Eurasian Economic Commission) listings to register GPU model names for use at a later date, often indicating that a product launch is happening relatively soon. A new ECC filing by Chinese graphics card maker Shangke Group (MaxSun and Soyo) lists A GeForce RTX 4060 and GeForce RTX 4050 alongside the RTX 4070.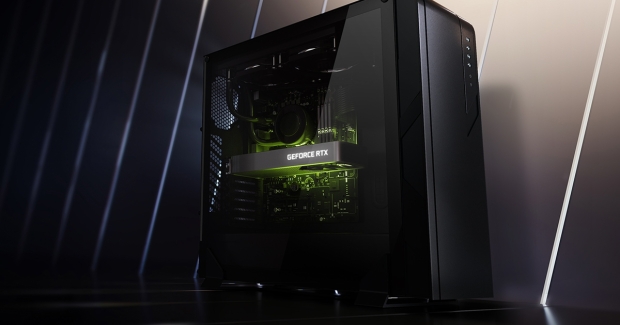 The list doesn't mention any upcoming "Ti" models but indicates the expected release cadence of the GeForce RTX 4060 to follow the launch of the RTX 4070. What's interesting is that both of these cards represent the mainstream offerings for the GeForce RTX 40 Series, so even with a price increase over the previous Ampere generation - we should expect them to launch with prices relatively close to the RTX 3050's USD 249 and the RTX 3060's USD 329.
Also, the fact that both have shown up in this listing points to board partners being made aware of the entire Ada line-up and that NVIDIA could release these cards sooner than expected. And with NVIDIA launching its full laptop/mobile RTX 40 Series line-up, we could also see an accelerated timeline for desktops.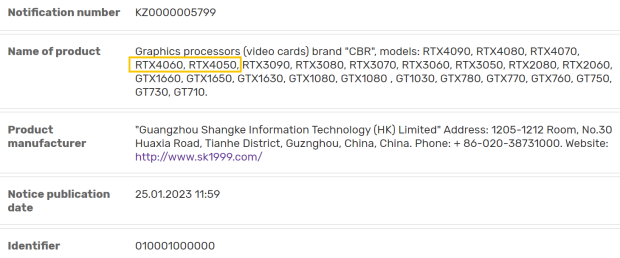 No specs or other info has been revealed, but as the GeForce RTX 4060 Ti is set to use the AD106-350-A1 chip, 4352 CUDA Cores, 8GB of GDDR6 memory, and a TGP of only 160W - it's expected that the RTX 4060 and RTX 4050 will also aim for impressive power efficiency. How this will translate to in-game performance remains to be seen, especially when these mainstream Ada GPUs are rumored to feature a 128-bit bus interface.