The NVIDIA RTX 6000 Ada workstation GPU has been listed with a price point of USD 6800, representing a 46% increase over the previous Ampere-based NVIDIA RTX A6000. Dropping the 'A' in naming the new graphics card it's aimed at the workstation market and not enthusiast gamers.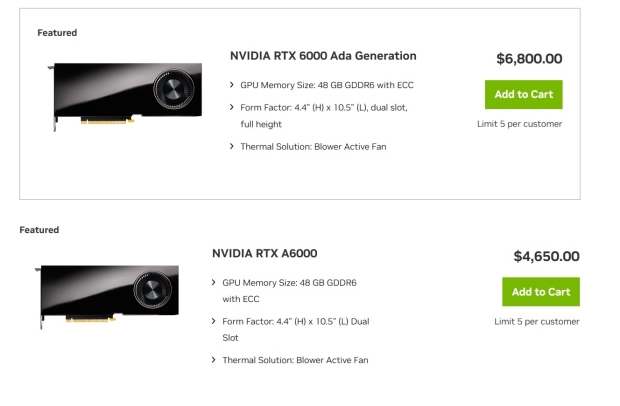 Though one assumes you'll be able to use it for gaming even though it uses NVIDIA's Pro driver suite.
The NVIDIA RTX 6000 Ada specs are higher than the flagship consumer-focused GeForce RTX 4090, with its 18,176 CUDA cores presenting an 11% increase over the RTX 4090's 16,384 CUDA Core count. It also features more memory in the form of 48GB GDDR6 over a 384-bit interface - though it's clocked slower than the RTX 4090's 24GB of GDDR6X memory. The difference in specs points to some headroom for an eventual GeForce RTX 4090 Ti.
With the GeForce RTX 4090 rated at 450W, this new RTX 6000 Ada is only rated at 300W, even though it utilizes more memory and cores. Another example of the impressive efficiency found across NVIDIA's Ada Lovelace range of GPUs. Of course, the price difference between this and the RTX 4090 is huge, but it's a notable addition from NVIDIA.
Its traditional blower-fan cooling design also brings to mind the story we posted the other day about a user getting their hands-on a 2-slot RTX 4090 with a similar cooling setup. As a workstation GPU, the overall physical size of the NVIDIA RTX 6000 Ada workstation GPU is kept small to allow it to be used in professional setups.
Here's the official description from NVIDIA.
The NVIDIA RTX 6000 Ada Generation delivers the features, capabilities, and performance to meet the challenges of today's professional workflows. Built on the NVIDIA Ada Lovelace GPU architecture, the RTX 6000 combines third-generation RT Cores, fourth-generation Tensor Cores, and next-gen CUDA cores with 48GB of graphics memory for unprecedented rendering, AI, graphics, and compute performance.