The NVIDIA GeForce RTX 4090 GPU is a beast of a GPU, the most powerful currently available. But all that performance comes in a sizable physical package, with both Founders Edition and AIB models having chunky 3.5 to 4-slot thicknesses. This can limit the number of cases and builds the card can comfortably slot into, not to mention requiring brackets and additional support depending on the orientation.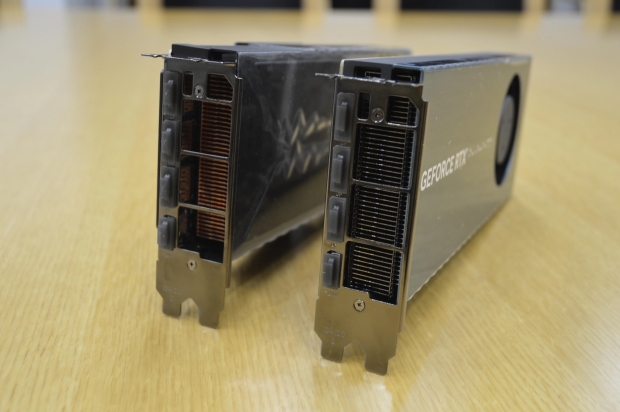 The existence of GeForce RTX 4090 cards using old-school blower fan designs for cooling is interesting for several reasons. It's a style of cooling that is no longer used because of the noise it can generate, not to mention that it is less efficient and capable of cooling a card when temperatures go high.
The silver lining is, of course, that the blower design means an overall smaller card, and that's one of the key reasons Redditor BottleneckEvader bought this custom USD 2675 variant of NVIDIA's flagship GeForce RTX 40 Series graphics card. It fits inside their Fractal Torrent Nano case because it's a 2-slot RTX 4090.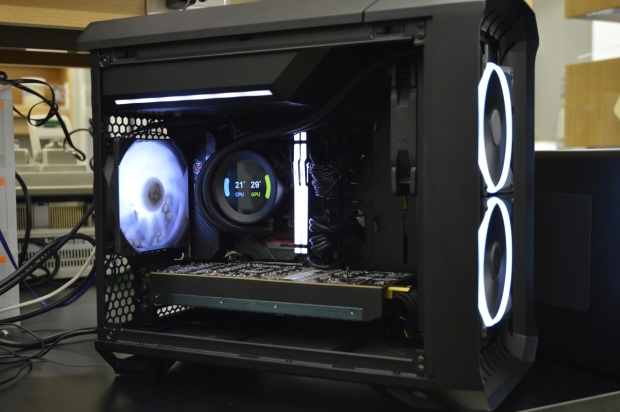 As the card doesn't feature any branding, it's believed to be a custom model created without NVIDIA's consent - as it's believed the company has restrictions on such designs. This makes sense when you see the results of the blower fan RTX 4090 in action, where its power is hard-limited to 450W - so it can't be fully overclocked. Under load, the fans go up to an RPM speed of 5200, with GPU temperatures hovering at around 78 degrees Celsius and memory at 98 degrees. Fan speeds of 5200RPM would be very loud.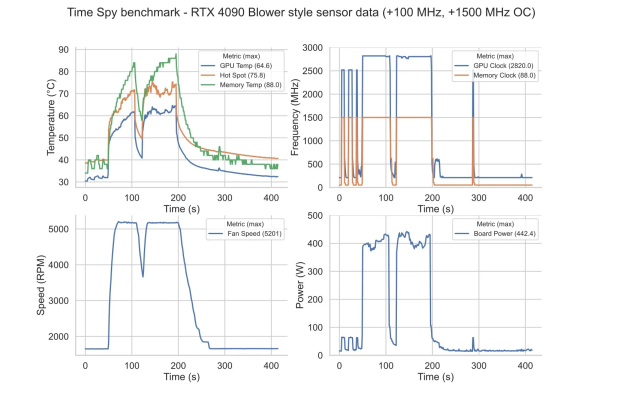 And with that, it still manages to hit a 3DMark Time Spy Graphics Score of 35908 points with stock settings and 36956 with some light overclocking within the power and cooling limits. These results are in line with most RTX 4090 models.
Even though this custom RTX 4090 GPU is loud when under a heavy workload, BottleneckEvader notes that he's happy with the purchase and plans to use the card for many years.