NVIDIA is supercharging GeForce Now with the raw power of GeForce RTX 4080 cards in a new Ultimate subscription tier for $19.99/month.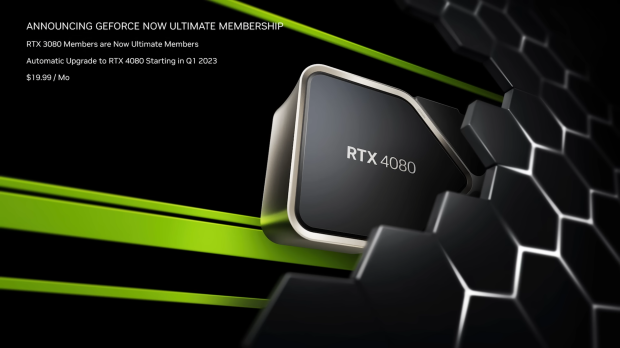 NVIDIA's GeForce Now game streaming service will soon leverage GeForce RTX 4080 graphics cards to deliver 64TFLOPs of high-end PC gaming performance wirelessly over the internet. RTX 4080 game streaming is available in a new Ultimate membership subscription, which replaces the highest tier that previously offered RTX 3080 game streaming quality.
With the might of GeForce RTX 4080 cards, the new GeForce Now Ultimate subscription boasts 4K resolution and up to 240FPS using DLSS 3.0, complete with NVIDIA Reflex integration to significantly reduce latency below 40ms, which is extremely important for any remote game streaming service.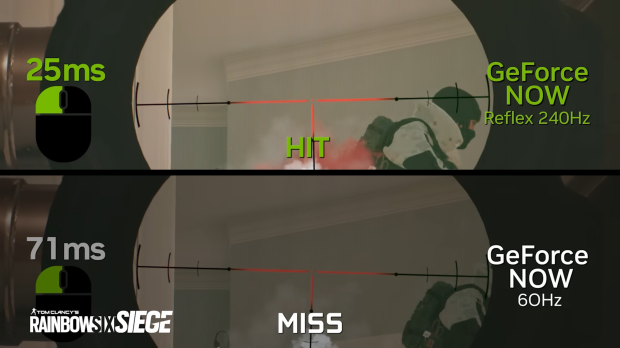 NVIDIA says this lower latency is a "first for cloud gaming," and Reflex was able to reduce in-game latency in Rainbow Six Siege up 67% when streaming from GeForce Now servers.
"I'm excited to announce that the Ada Lovelace architecture is coming to GeForce Now. The new RTX 4080 Superpods will deliver up to 64 Teraflops of graphics goodness to each gamer. That is 5x the performance of an Xbox Series X, and will include full Raytracing and DLSS 3," NVIDIA senior VP Sam Fisher said during the presentation.
"For competitive gamers, we're also bringing NVIDIA Reflex to GFN. The RTX 4080 Superpods can render and stream at 240 frames-per-second, when combined with our Reflex technology, it achieves click-to-pixel latency below 40 milliseconds--a first in cloud gaming."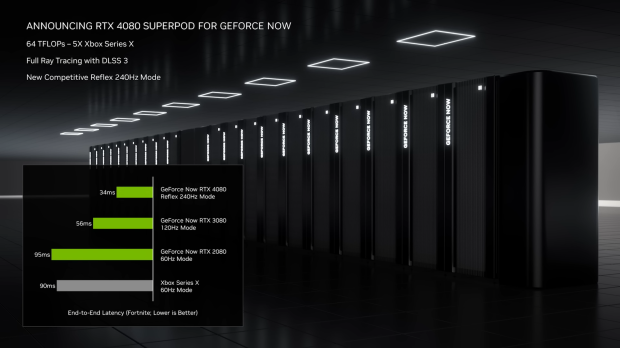 GeForce RTX 4080 game streaming will roll out in select datacenters in Q1 2023 and will be included in the new NVIDIA GeForce Now Ultimate subscription for $19.99 a month. The Ultimate subscription replaces the current highest-tier GeForce Now subscription that currently offers GeForce RTX 3080 game streaming.