We are slowly finding out more and more about AMD's upcoming RDNA 3 GPU architecture, which will be powering the soon-to-be-released Radeon RX 7900 XTX and Radeon RX 7900 XT graphics cards. We're now hearing about the AMD Infinity Links bandwidth inside of the Navi 31 GPU-powered cards.
AMD's upcoming RDNA 3 architecture will feature GPU chiplet technology, with Infinity Links operating at 9.2Gb/s with High-Performance Fanout that will provide nearly 10x the bandwidth of the IFOP (Infinity Fabric On-Package) that AMD uses in its high-end Ryzen and EPYC processors.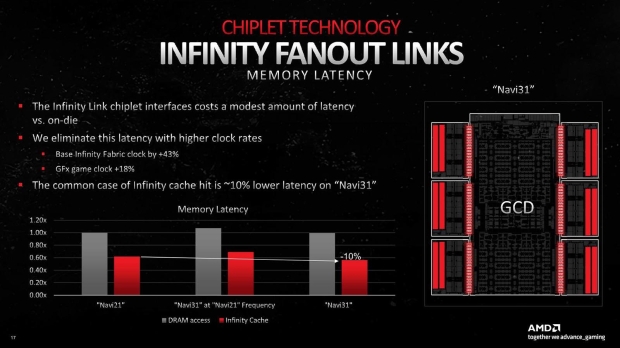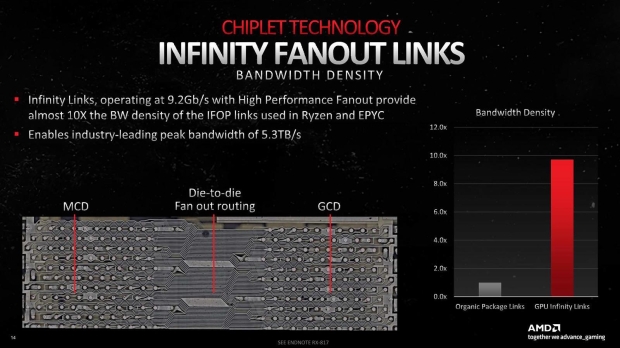 The new slides were leaked out by ASCII but quickly removed, showing that the Infinity Link interconnect technology will feature industry-leading peak bandwidth of a whopping 5.3TB/sec: this is the bandwidth between the GCDs (Graphics Compute Die) and the MCDs (Memory Compute Dies).
AMD used Infinity Fabric on its previous-gen RDNA 2-based Navi 21 GPU, but the team at AMD has been working hard on reducing latency by boosting clock speeds... where we have a 43% increase in Infinity Fabric clocks, and 18% graphics game clock.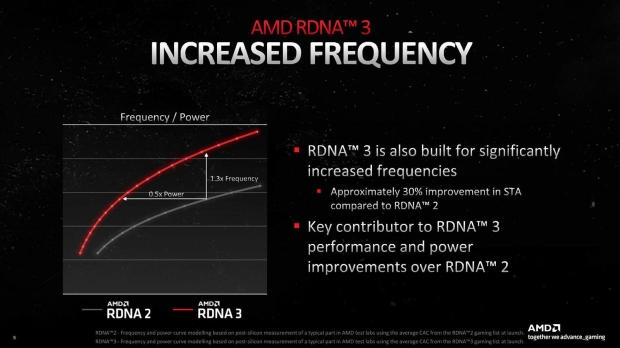 The slides also tease that AMD designed RDNA 3 for "significantly increased frequencies" with the company referring to the 30% boosted Static Timing Analysis when compared to RDNA 2... but it's not that great: GPU clocks have only been increased by around 10% meanwhile competitor NVIDIA is passing 3.0GHz on its new Ada Lovelace GPU architecture and GeForce RTX 4090 and GeForce RTX 4080 graphics cards.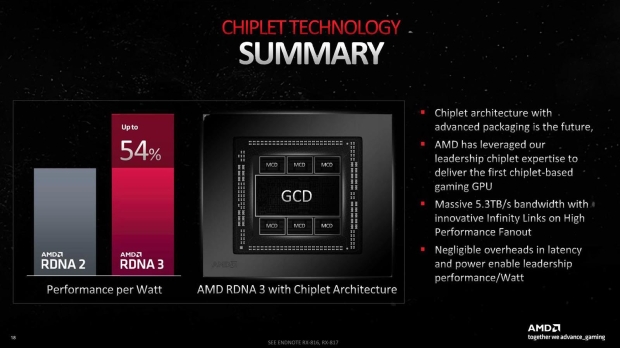 AMD points out that there is up to 54% more performance per watt with its new RDNA 3 GPUs compared to the RDNA 2 GPUs, with the new chiplet architecture with advanced packaging being "the future". AMD adds that it has leveraged their leadership chip expertise to deliver the first chiplet-based gaming GPU.
The massive 5.3TB/sec bandwidth using their innovative Infinity Links on High-Performance Fanout, and negligible overheads in latency and power enable leadership in the performance per watt game.
AMD's new RDNA 3-powered Radeon RX 7900 XTX and Radeon RX 7900 XT graphics cards will be launching on December 13.