Gigabyte January 2008 update part 3
New graphics card features.
Published Tue, Jan 29 2008 8:09 AM CST
|
Updated Tue, Nov 3 2020 12:38 PM CST
The third and final part of this update from Gigabyte will talk a little bit about new features that Gigabyte are planning to incorporate onto its graphics cards. If you wanted to know about upcoming GPUs or specific card models, then we're sorry to disappoint, as we'll be talking about slightly different things here. First of all we have Gigabyte's new Gamer HUD and eXtreme Voltage Gear Overdrive, which both works with the latest generation of 8800GT cards from Gigabyte.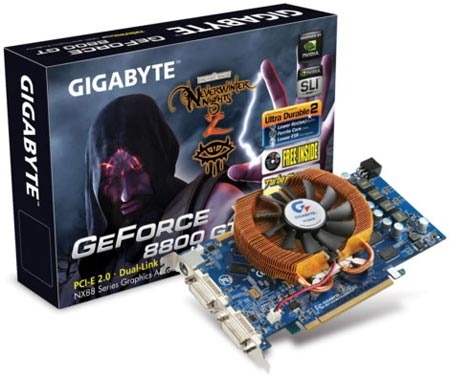 The GV-NX88T512HP and the GV-NX88T256H are the first two cards to support these new features and the one relies on the other to make it all work. Let's start with the eXtreme Voltage Gear Overdrive, this is a new Voltage regulator that Gigabyte has added to these cards that allows for a wider Voltage range than we're used to see on graphics cards which tend to have a static setting. Many overclockers voltmod their cards to be able to push them higher, but Gigabyte have of sorts already done this for you. This ties in with the new Gamer HUD software, as this is where you can adjust the Voltage of the GPU.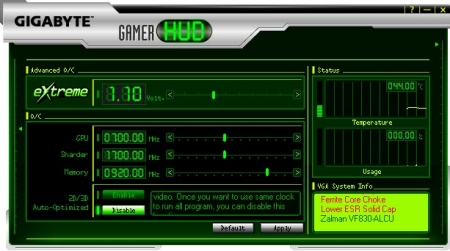 Click to enlarge
The demo we were shown was somewhat limited for the hard core overclockers, as you could only go from 1.05 to 1.2V in steps of 0.5V. This really isn't much at all, but it is a step in the right direction and this is a first generation product. Gigabyte is also being cautions, as they don't want to get RMA's because people have pushed the Voltage of their graphics cards too high and fried the GPU because of it. The Gamer HUD also allows you to overclock the GPU, Shaders and memory independently from each other. There's also a 2D/3D Auto-optimize button and this underclocks the card automatically in Windows and lowers the Voltage while in 3D it will overclock the card and increase the Voltage.
Pretty nifty stuff, but it doesn't stop there as the Gamer HUD also features temperature readout for the GPU and the next version of the software will come with a feature that allows for even more power saving for your graphics card by introducing a feature similar to DES on Gigabyte's motherboards. However, in this instance we're not talking about switching on and off part of the PWM circuitry, but rather a new design that allows for the PWM to switch frequency. This allows for an overall more power efficient card, not just at idle, but also during load, as the PWM will operate more efficiently. Gigabyte has also done some changes to the PWM design to these cards to provide a very cool running PWM circuit while still delivering a lot of power.
Finally we have another TweakTown exclusive for you, a peek into what the next generation passive cooler from Gigabyte will look like. Gigabyte calls it Multi-Core thermal design, although we're not quite following on what it has to do with more than one core. Still, it looks rather snazzy and if you have a look at the picture below you'll see some circled "lumps" on the heatpipe. These are supposed to enhance the interface between the heatpipes and the fins which will ultimately dissipate the heat from the GPU.
The new design features two heatpips, although one goes forward to a more traditional heat spreader which sticks out of the back of the system. The other one features the copper nodes as Gigabyte refers to the copper "lumps" and connects to the larger heatsink. The cooler features a natural convection design which should draw cold air over the card to help cool it. This new cooler has been designed to work with the 9600GT, which should be very interesting to see with a passive cooler from Gigabyte, despite the fact this would mean a dual slot cooling solution.
That's it for this time, but expect more updates from more companies in the future.