SteelSeries Arctic Nova Pro gaming headset: 'four years in the making'
SteelSeries launches its new Arctis Nova Pro gaming headset, SteelSeries says it's 'the first pro-grade parametric EQ for gamers'.

Published Wed, May 25 2022 8:10 PM CDT
|
Updated Wed, Jun 15 2022 6:07 PM CDT
SteelSeries announced and released their new Arctis Nova Pro gaming headset at Computex 2022, which the company teased has been "four years in the making".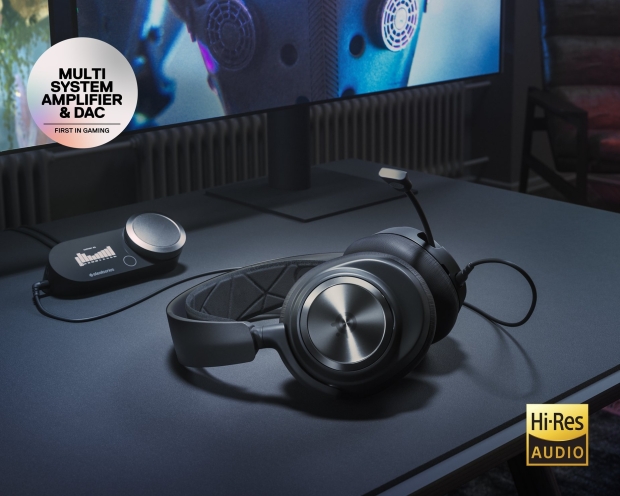 The company set itself some great goals from the start: removing pain points when gaming, and the best audio in gaming. SteelSeries has provided a clean look, has AI-powered voice clarity, high-fidelity audio, and the best comfort so you can be wearing them all day without feeling discomfort... and that's a big deal.
SteelSeries uses a dual-battery "Infinity Power System" for "unlimited battery life", where you can use one of the batteries in the headset, while charging another -- and then swap them out when needed. The new SteelSeries Arctic Nova Pro gaming headset is tapping "Quantum 2.0 Wireless" letting gamers mix two audio connections simultaneously: this allows for communicating with your friends over the phone, while you're gaming on your PC or console.
Ehtisham Rabbani, CEO of SteelSeries said: "There are defining moments in every industry, and this is one of those landmark days. Today we usher in a new era of gaming audio with the launch of the Arctis Nova Pro series and the Sonar Audio Software Suite. We are truly excited to empower gamers, provide them with a competitive edge, and have them experience pure Hi-Fidelity acoustics in gaming".
Infinity Power System - Gaming, unchained. The Arctis Nova Pro Wireless headset provides unlimited battery life and always keeps players in action with a dual-battery system. Gamers can charge the second battery while the first battery is in play.
Simultaneous Game & Mobile Audio - Play and communicate with Quantum 2.0 Wireless. Gamers can mix two audio connections simultaneously, engaging with friends over the phone while gaming on a PC or console. The robust 2.4GHz wireless is perfect for earning that in-game hot streak while using Bluetooth for calls, Discord, music, or podcasts.
Active Noise Cancellation - Completely transported to another world like never before as Active Noise Cancellation (ANC) for gaming reduces unnecessary distractions. The advanced 4-mic hybrid system removes outside sounds, while mics inside the earcups balance the audio for optimal clarity. For taking in the surroundings, Transparency Mode is just a button press away with adjustable hear-through levels to suit each situation.
Wireless Base Station - Total control at the player's fingertips. The Wireless Base Station acts as a command center across platforms and features adjustments for EQ, input device, volume, ChatMix, and much more on-the-fly, while never having to leave the game. The device remembers personal settings, and a multi-function OLED display keeps users informed of battery life and other functions.
Related Tags