Foxconn to launch 790FX board with SB700
New southbridge from AMD.
Published Wed, Nov 28 2007 2:58 AM CST
|
Updated Tue, Nov 3 2020 12:38 PM CST
Pictures of Foxconn's upcoming AMD 790FX based board, the A79A-S has made its way onto the web and Expreview scored them. The big news about this board is that it's the first motherboard that we've heard of that will feature the new SB700 southbridge from AMD. The SB700 bring support for six SATA ports, no less than 12 USB 2.0 ports and for some reason two USB 1.1 ports. It also supports RAID and good old fashioned IDE.
We have to say that we're not in love with the Foxconn A79A-S design, despite that fact that it has no less than four x16 PCI Express slots and there are several reasons for this. First of all Foxconn has only incorporated four SATA connectors on the board, as two of the six SATA connectors supported by the SB700 have been moved to the rear I/O as eSATA. We're not quite sure why you'd ever need more than one eSATA port, but if you've got an answer, let us know.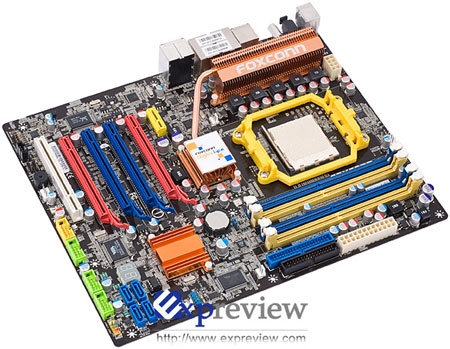 The four x16 PCI Express slots don't have a lot of space in-between them, so you're limited to single slot cards such as the Radeon HD 3850 series if you want to use all four slots. The problem is that even if you only want to use two cards, you'll be wasting the sole PCI slot, as it's below the second PCI Express x16 slot in a two card configuration. There's also a spare x1 PCI Express slot, but we're not sure if this can be used with larger cards as it looks as if it's positioned a little bit too close to the chipset heatisnk.
Foxconn has stuck with two PS/2 ports at the back and the board has a single FireWire port, four rear USB 2.0 ports, two Gigabit Ethernet interfaces, 7.1-channel HD audio with optical and coaxial S/PDIF out and the aforementioned eSATA ports. Considering that this is a top of the range AMD board, we can't but wonder why there are only four rear USB 2.0 ports, as this is quite stingy by today's standards.
The colour scheme also leaves a lot to be desired with blue, yellow, orange and green being used and it looks like a real mishmash of colours. On the upside, the VRM heatsink looks quite beefy and that heatpipe from the northbridge isn't really needed as the 790FX chipset runs very cool. You can find a few more pictures of this board
here