In the hours leading up to CES 2022 we're getting more concrete details about AMD's next-gen Ryzen 9 6980HX processor -- codenamed "Rembrandt".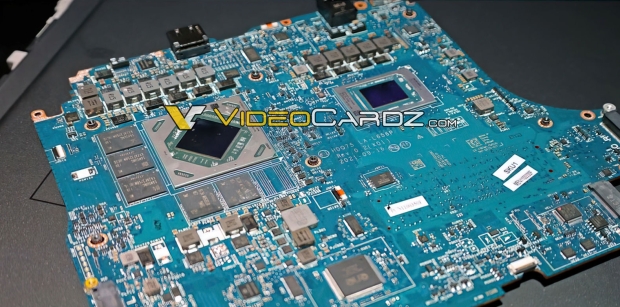 The chip in the above photo is of the AMD Rembrandt APU, inside of Alienware's upcoming m17 R5 gaming laptop. This is the Ryzen 9 6850HX processor, with an RDNA 2-based GPU next to it in the form of the Radeon RX 6700M which will have 10GB of GDDR6 memory. The m17 R5 gaming laptop will ship with the higher-end AMD Radeon RX 6850M XT graphics card with 12GB of GDDR6 memory.
The new Rembrandt APU arrives with a flagship Ryzen 9 6980X processor that has 8 cores and 16 threads on the refreshed Zen 3+ architecture, and for the first time on the Zen architecture: pushing 5.0GHz. AMD will most likely be pre-binning the chips, with the 45W power target most likely good for the most part -- but it will go over -- by how much, we'll find out soon.
There'll also be AMD's new Ryzen 9 6900HX APU which will have the same 8 cores and 16 threads, but have its CPU boost clock 100MHz lower -- so 4.9GHz versus 5.0GHz on the 6980HX -- still, impressive. The last one leaked is the Ryzen 7 6800H, which would also offer the same 8 cores and 16 threads, but at 300MHz slower than the 6850HX: down to 4.7GHz boost.
We will see the entire family of Rembrant APUs with the introduction of AMD's new Zen 3+ processors in the upcoming Ryzen 6000 mobile series GPU family later this week at CES 2022.