SteelSeries launches two new gaming mice
Unexpected announcement.
Published Fri, Aug 24 2007 10:50 AM CDT
|
Updated Tue, Nov 3 2020 12:39 PM CST
Over the past couple of days Microsoft and Razer has both launched new gaming mice and it wasn't too long ago that Logitech launched a new model, but today an unexpected announcement dropped into our mailbox from SteelSeries who announced not one, but two new gaming mice. SteelSeries is probably better known for its mouse mats or gaming surfaces as they like to call it and headsets than its mice, although they've offered a couple of tweaked Microsoft mice.
The two new models goes under the Ikari brand and are called Ikari Optical and Ikari Laser professional gaming mice. According to the press release, these two new mice have been under development for 15 months with the help of some 20 professional gamers along with input from some further 5,000+ gamers.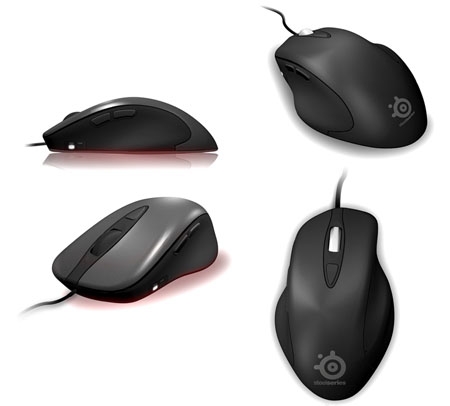 SteelSeries claims that the grip has been designed to suit the three most predominant grip styles used by gamers, what SteelSeries refers to as the "Swipe, Claw, and Palm". Both models feature five buttons and anti-sweat and slip-resistant surface coatings. Further features are on-the-fly DPI settings, driverless PnP and pressure points that reduces the friction for optimized glide.
As the name suggests the Ikari Optical uses an LED sensor and it features two DPI settings and has been specifically designed for first person shooter gamers. The Ikari Laser on the other hand features a range of DPI settings and it's got what appears to be a bottom mounted LCD display for DPI readout and a picture on the SteelSeries website suggests that it can do at least 3000 DPI. It also features programmable macro buttons with a built in memory that stores the settings for use with a different computer and it has been specifically designed for RTS and MMO gamers.
Both models should be available some time in Q4 and no price was announced, but we don't expect them to be cheap. You can read the official press release
here